Former Haryana Chief Minister Om Prakash Chautala, who is serving a 10-year jail term in Delhi's Tihar Jail, has cleared his higher secondary or class XII examination. And that too with a first division.
Chautala, 82, recently appeared in the the exam conducted by the National Institute of Open Schooling (NIOS) at the centre set up for prisoners at Tihar Jail.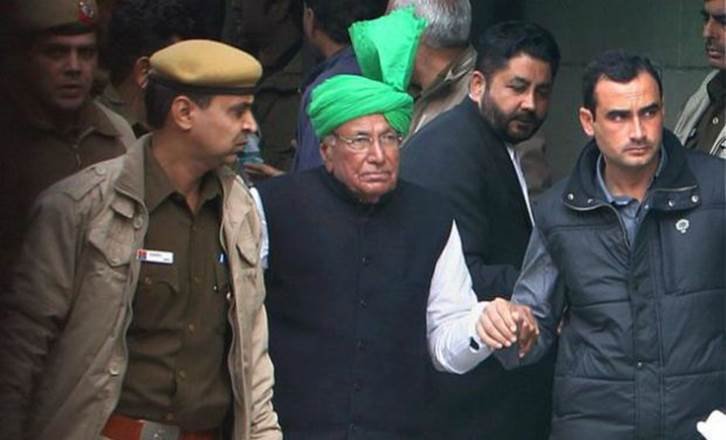 His son, Abhay Singh Chautala told the Indian Express that that his father secured an 'A' grade in the exam and has decided to spend time in jail more meaningfully. After acing the higher secondary exams, Chautala is now planning to pursue a graduate degree while serving his sentence.
According to him, his father was forced to discontinue his studies during his school days due to family compulsions. 
"When he was in school, my grandfather Chaudhary Devi Lal was into politics. Who was to take care of the large family, who will look after farming, these were some of the issues which my father, being the eldest member of the family after Devi Lal, had to take care of .This forced him to leave his studies in between and the responsibility to educate his younger siblings also fell on him. Later, he himself entered politics and found little time to pursue his studies," Abhay told PTI.
"Now, he goes to the jail library daily, where he reads newspapers and books. He asks the jail staff to arrange for his favourite books. He reads books about great politicians across the world. Sometime, he asks us to send course books also," Abhay said.
Why is he in jail?
In January, 2013, Om Prakash Chautala–former chief minister of Haryana and the chief of Indian National Lok Dal–was held as the "main conspirator" for illegally recruiting 3,206 junior teachers in Haryana in 2000.
Chautala along with his son Ajay Chautala and 53 others were then convicted by a special CBI court and sent to Tihar jail. All of them were held guilty of cheating, forgery, using fake documents as genuine, conspiracy under IPC and for abusing their official position under Prevention of Corruption Act.
In 2015, the Supreme Court upheld the 10-year jail term dismissing his plea challenging his conviction and sentence. Since then, he continues to serve time at Tihar jail.