For the frequent traveller, one great news in Budget 2016 was Finance Minsiter Arun Jaitley's proposal to revive 160 airports and airstrips across the country. 
Though he didn't elaborate on how much money will be spent on this or even how these airports will be made functional, it's going to be a big relief to a lot of people to have an airport closer to home. 
However, reviving an airport is no guarantee that it will be actually be used. Over the past 10 years, the government has already spent Rs 438.4 crore on developing 15 airports, yet not even one of them has received a single commercial flight in all these years, reported The Times of India. 
Here's a list of 10 of the most expensive 'ghost' terminals.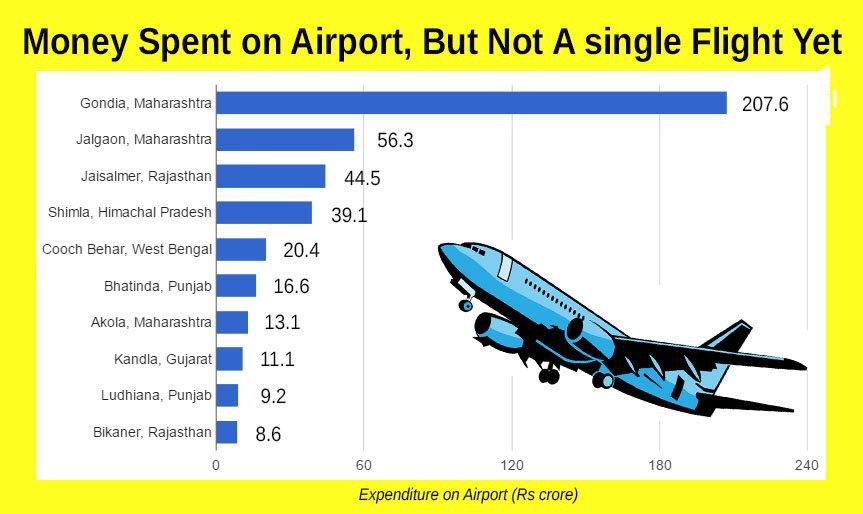 Some of these airports are large enough to handle substantial traffic, such as the one at Jaisalmer which has parking bays for three 180-seater narrow-body jets and can handle 300,000 travellers a year. However, for years this airport has been lying empty.  
Here's a video of the airport.
The problem is that just building airports does not ensure that it will be operable too. Most airlines don't want to fly to cities if it's not profitable for them. 
Sanjiv Kapoor, chief operating officer at SpiceJet, told Reuters last year, "They (the government) need to realise it's not a case of 'build the airport and we will come'." The private sector airline ceased flying to a new airport in Mysore in 2014 because of insufficient demand.
Most of these airports are in fact huge white elephants for the government. Just eight of these vacant airports accumulated losses of over Rs 82 crore from 2011-14 due to expenditure on maintenance and other expenses, reported Scroll. This sum does not even take into account the money spent on upgrading these airports.
So, before draining money into more useless airports, can the government ensure that people would actually be able to catch a flight at these?