Rescuers desperately searched through the night for victims trapped in rubble after a powerful quake hit southern Japan on Friday night (IST), killing at least two and causing major damage, just over a day after another strong tremor in the same area.
The quake on the southwestern island of Kyushu sparked a fresh wave of destruction and was followed by a wave of aftershocks in the region where nerves are already frayed following Thursday's earthquake that killed nine people.
The quake, measured at magnitude 7.0 by the US Geological Survey, struck at 1:25 am (1625 GMT Friday) at a depth of 10 kilometres (6.2 miles).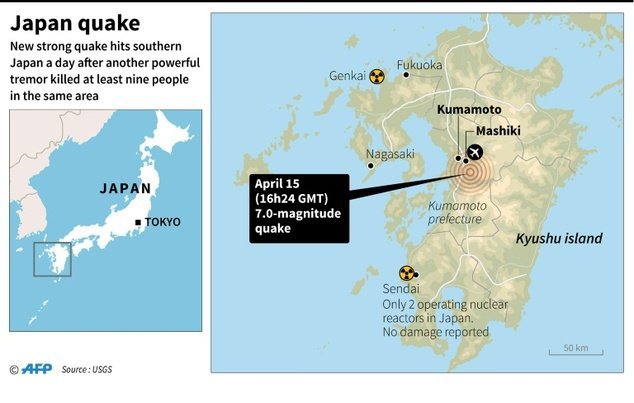 The Japan Meteorological Agency, which put the magnitude at a revised 7.3, initially issued a tsunami warning for the western coast of Kyushu but later lifted it.
The powerful shaking triggered a huge landslide that swept away homes and cut off a highway in one area, and unlike the earlier quake which mostly affected old houses, larger buildings were damaged and some toppled across Kumamoto prefecture, the epicentre of the quakes.
Public broadcaster NHK said that at least 470 people were injured in the latest tremor, while a government spokesperson said scores were trapped or buried alive.
NHK reported four dead in total, but Kumamoto officials gave a total a tally of two.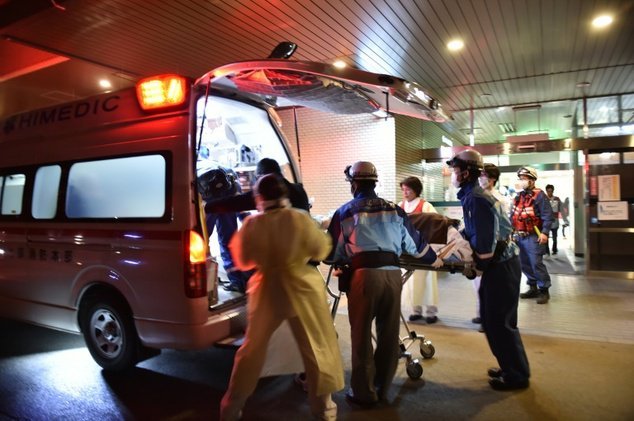 In nearby Kumamoto city, authorities were evacuating patients from a hospital over fears it could collapse and images showed the building slanted.
An AFP journalist in the city at the time said he was jolted awake by powerful shaking, which sent the television set in his hotel room crashing to the floor. Staff urged guests to evacuate.
A ceiling at Kumamoto airport collapsed from the shaking, forcing the airport closed, Jiji Press reported, with no immediate plans to resume flights, and communications in the area were spotty.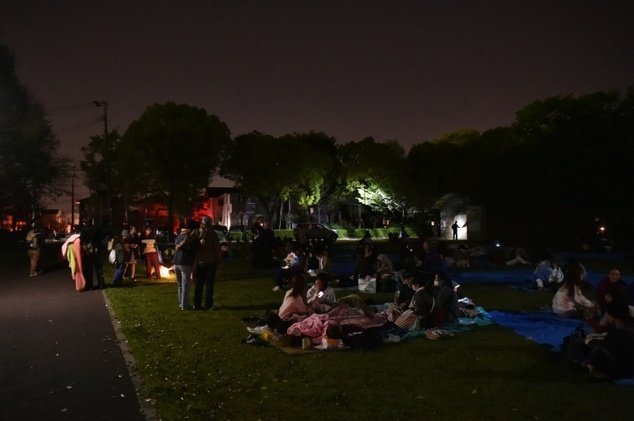 Thursday night's quake was measured at magnitude 6.2 by USGS, and 6.5 by the Japanese agency.
Some 20,000 soldiers will be deployed to the area over the weekend to help rescue efforts, Defence Minister Gen Nakatani told reporters.
Japanese Prime Minister Shinzo Abe was due to visit Kyushu later Saturday to inspect damage and rescue efforts, but Jiji Press reported his trip was cancelled.
"We are trying our best to assess the damage situation as it could spread," he told reporters early Saturday.
(Feature image source: AFP)