A J&K resident has embarrassed the officials of Consumer Affairs and Public Distribution Department (CAPD) in Jammu and Kashmir by deliberately listing the names of popular snacks like 'Kurkure', 'Lays' and 'Punjabi Tadka' in the application form as his 'sons'. However, despite that, he still got the document with the three listed as his children. 
The pictures of ration card which have gone viral on social media platforms were released by Ali Mohammad, a resident of North Kashmir's Kupwara district. While he had correctly mentioned the details about his 40-year-old wife Mareema, Ali had listed the details of his three sons as : Kurkure 10, Lays 8, and Punjabi Tadka 6.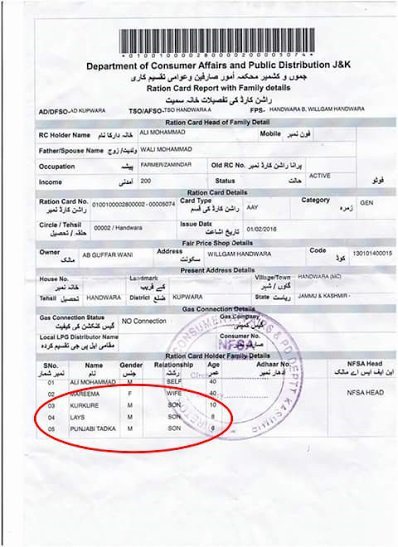 The application form was still duly stamped by the Directorate of Consumer Affairs and Public Distribution, J&K.
"This is the state of affairs. I had done so to express my resentment against this so-called National Food Security Act but was aghast to see the department has accepted my form in toto," Ali told CNS. 
This is not the first time such a discrepancy has been reported in the state. Recently, a fictitious consumer from J&K's Baramulla district had filled popular phrases and songs from Bollywood movies in the details for his ration card for getting subsidized ration under National Food Security Act (NFSA).
The discrepancy are being highlighted at a time the state is witnessing almost daily protests against the implementation of centrally-drafted National Food Security Act. 
Feature image source: Twitter/ScoopWhoop