Days after news emerged – though never confirmed – that Aamir Khan was being roped in as the ambassador for Maharashtra's anti-drought scheme, the actor is suddenly singing praises for Nana Patekar.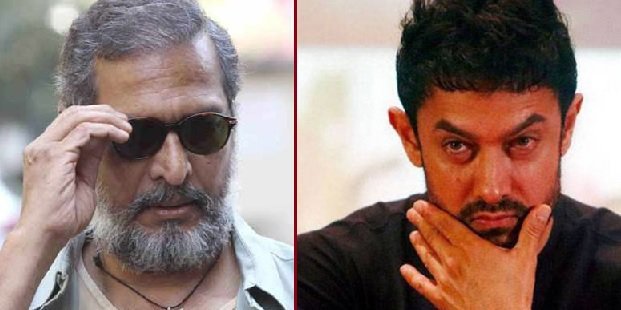 On Wednesday, Aamir launched a project under his newly founded non-for-profit Paani Foundation. Named 'Water Cup', the project will be featured as part of his show Satyamev Jayate.
At the launch, he said this about Nana, "I will meet Nana. I happened to see his film 'Natsamrat' which I found to be brilliant. I will talk to him. He is doing some great work. All of us have seen what he has done. Like Nana, more and more people need to come forward for this cause. Nana has started this act which is wonderful. He is doing great work and showing his sensitivity to such an important issue. We would only like to add to that." 
So much love, all of a sudden! Well, he also tweeted:
I saw Natsamrat last night. What a film! And what an amazing performance by Nana, truly 'ase nat hone nahi'! (1/3)

— Aamir Khan (@aamir_khan) February 17, 2016
Followed by this:
A must watch for all who love performances! And Vikramji has done no less. Outstanding! Both Nana& Vikramji kept me riveted throughout!(2/3)

— Aamir Khan (@aamir_khan) February 17, 2016
Not only this, he also announced he would call up Nana and seek his help with the new project that aims to solve Maharashtra farmers' water problems.
So, if you wondering where did it come from, we have an idea. All hell had broken loose on twitter when news of Aamir's appointment as anti-drought scheme's ambassador emerged earlier this week, with many suggesting it should be Nana Patekar, and not Khan, who should be given the job.
Why?
Because while Aamir hasn't particularly shown any enthusiasm for the cause, Patekar has gone out his way to help the farmers by distributing lakhs of money to widows of drought-hit farmers.
A few days ago, Scoopwhoop also made a case for Nana's suitability for the role.
Now, even though Aamir never officially tweeted anything about his association with Maharashtra government, he probably took cognizance of all the tweets that favoured Nana over him.