Kashmir, which has seen violence over the last few days, on July 13 witnessed a display of humanity and religious brotherhood when local people in Bijbehara rushed to the help of a group of Amarnath pilgrims after their bus met with an accident in which two persons were killed.
The bus, en eroute from Baltal to Jammu, collided with a truck at Sangam in Bijbehara, killing a pilgrim Pramod Kumar of Meerut in Uttar Pradesh and local driver Bilal Ahmad Mir of Kangan and injuring 23 others.
When the news of the accident reached the locals, they defied curfew and reached the spot and began evacuating the injured pilgrims.
The yeoman's service of the local Muslims found praise from the rescued yatris.
Around 50 local people came to evacuate the injured after the accident, said AK Arora from Meerut in a two-minute video, which has gone viral on social networking sites.
"If anyone wants to understand humanity, learn it from people of Kashmir. I felt the true value of humanity from the people of Kashmir. They came to our rescue at a time when we were abandoned by even fellow pilgrims and army," he said.
He said he has "witnessed humanity for the first time".
The development comes at a time when the valley has been witnessing violent protests that have claimed 34 lives, including a policeman, and leaving hundreds injured.
Bijbehara, the home town of Chief Minister Mehbooba Mufti, witnessed two deaths, including a Delhi University student, who had come to celebrate Eid with his family.
The area has witnessed violent protests and remains under curfew for the past five days.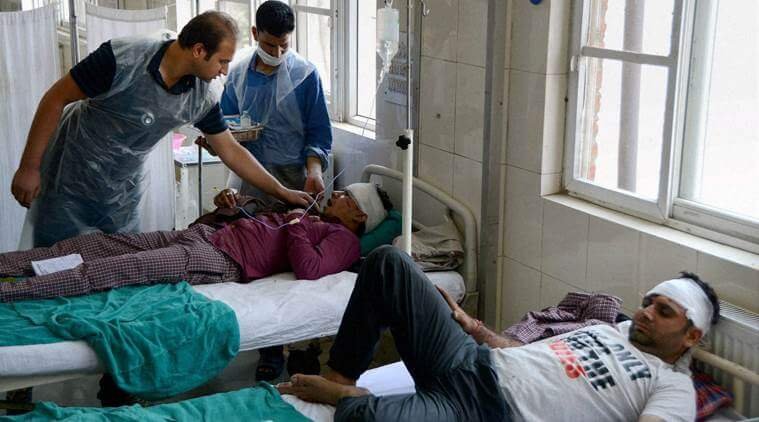 "I had come for Amarnath yatra on July 6. We had come in a group and after having 'darshan' at the 3,880 metre-high holy cave we returned through Baltal and were moving in a convoy. 
The bus, which was carrying us, met with an accident but the other vehicles in the convoy did not stop to help. I somehow managed to come out of the ill-fated bus and sought help from the fellow yatris and the passing army vehicles repeatedly, but nobody paid any heed," Arora said.
"Locals arranged vehicles and shifted us to the hospital where we are being provided best possible treatment. I am saying if you want to learn humanity, learn it from the people of Kashmir. Don't demonise them," the pilgrim said.
Meanwhile, the gesture of the locals caught the eye of the Chief Minister, who hailed the the residents of Bijbehara and the adjoining areas for helping and evacuating the injured pilgrims.