The Aam Aadmi Party convenor and Delhi Chief Minister Arvind Kejriwal's wife Sunita Kejriwal today slammed sacked AAP minister Kapil Sharma on Twitter.
Law of Nature never errs. Seeds of विश्वासघात, झूठे आरोप sown, so shall he @KapilMishraAAP reap.Inevitable.

— Sunita Kejriwal (@KejriwalSunita) May 15, 2017
(Sunita's Twitter handle. which has over 76,00 followers, is not verified, but is believed to be hers). 
In response, Mishra – who has been levelling a series of corruption charges against Kejriwal and AAP – tweeted that Sunita is unaware of the conspiracies being plotted at her own house. Mishra also said he won't ever say anything against Sunita.
सुनीता केजरीवाल जी साधना में रत पत्नी हैं। उन्हें अंदाजा भी नहीं उन्ही के घर मे कैसे कैसे कुचक्र रचे जाते है। वो अपना धर्म निभा रहीं हैं 1/2

— Kapil Mishra (@KapilMishraAAP) May 15, 2017
सुनीता केजरीवाल जी सच से अनजान हैं। वो अपने पति के पतन से परेशान हैं।

उनकी हर गाली सिर माथे। उनके खिलाफ कभी कुछ नहीं कहूंगा। 2/2— Kapil Mishra (@KapilMishraAAP) May 15, 2017
Mishra, in fact, concluded with a tongue-in-cheek remark saying Kejriwal should return his wife's phone to her, implying that it wasn't Sunita tweeting but her husband.
Mishra further tweeted that he will file a fresh complaint against Kejriwal once he is discharged from hospital. Mishra was admitted to hospital after he fainted in a press conference yesterday.
What's the trigger to Sunita's tweet?
She was responding to Mishra's several allegations including that AAP had more than Rs 45 crore in its bank account while party in its declaration showed only Rs 9 crore. Mishra has also alleged Kejriwal of taking Rs 2 crore bribe from Delhi's Health Minister Satyendar Jain.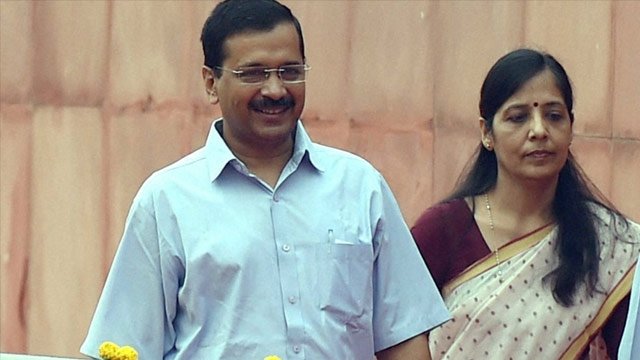 About Sunita Kejriwal
51-year-old Sunita Kejriwal, who holds a masters degree in Zoology, is a 1993-batch IRS officer. She met Kejriwal during a training programme at Bhopal after which they decided to get married.