North West is a big sister now. Thanks to the arrival of her lil' baby brother. Reality TV star Kim Kardashian West and rapper Kanye West announced the birth of their baby boy in Los Angeles on Saturday.
Kim Kardashian gave birth early Saturday morning… about three weeks before the Christmas day due date.
Being the social media savvy parents that they are, the couple made the announcement everywhere:
They also announced the birth on Kim's website saying, "Mother and son are doing well."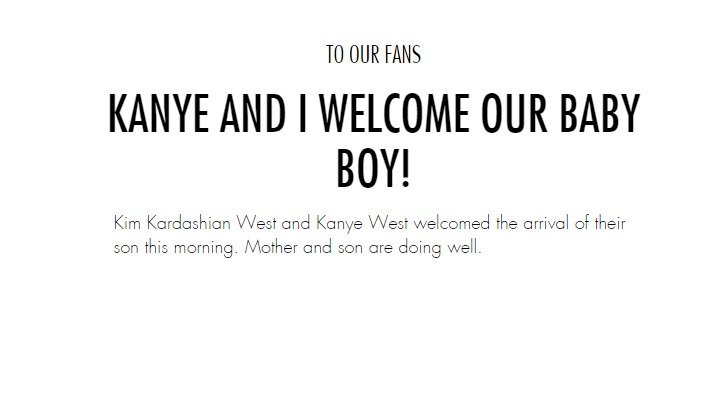 Cue for 'Awwwwws'
Of course the fans were kept abreast of all news, saying "Ready whenever you are lol" on Friday and posting an image of her bare belly:
We don't know what 2-year-old North West's baby brother is going to be called yet, but the rumours doing the rounds, according to Hollywoodlife reports, suggest that they've selected Robert for their son's middle name, as a tribute to Kim's late father, Robert Kardashian. Our money is on Easton.
According to reports , they are already planning a third! That's a lot to keep up with, Kardashians!