For the past twenty years, I have followed a ritual diligently without even realising it. After disembarking the Metro at Belgachia in north Kolkata, I rush up the stairs to join the queue for autorickshaws. Then, like every other person in the queue, I take out my deodorant-sprayed handkerchief and cover my nose. 
It's almost a reflex action. As I make my way up the stairs, my hands reach instinctively for the handkerchief in my pocket, even before the stench of urine hits my nostrils, even before I spot the perpetually overflowing toilet right across the gate. 
When you live in a big Indian city, you need to wire yourself accordingly.
According to a recent survey conducted by a travel website, HolidayIQ, Kolkata has the stinkiest loos in the country. 43 per cent of about 10,000 people surveyed claimed as much. Apparently, the survey was conducted among travelers. Which means that the respondents were mostly visitors to the city. That makes a whole lot of sense, for most Kolkatans will refuse to admit the city has a stink problem. We are immune to it.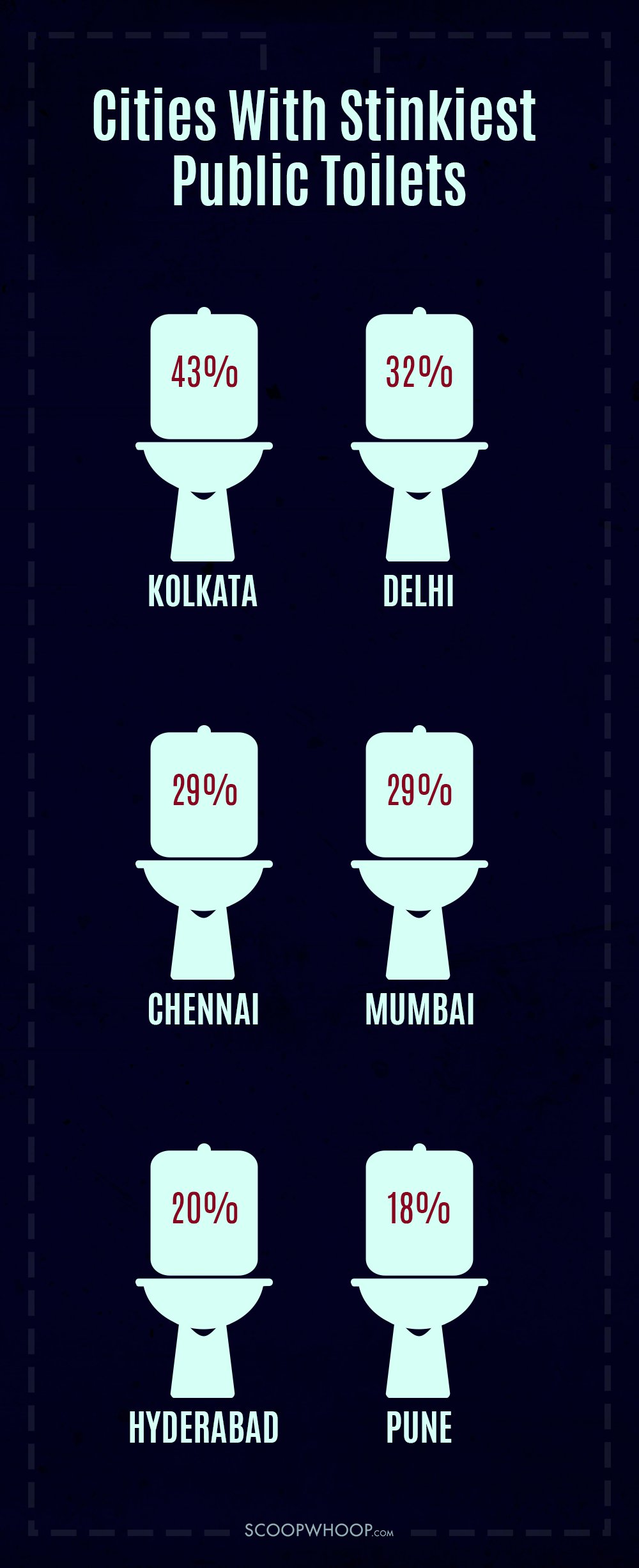 My Delhi workmates teased me about it. The taunts slid off my back like pee down a Kolkata public loo. In the City of Joy, we don't bother ourselves with such trivialities. 
Toilets are supposed to smell, the city seems to have told itself. That's one of the first lessons I learnt when I shifted to the city from the small town of Kohima almost 25-years-ago. I remember walking past a public loo in the crowded Sealdah area in central Kolkata along with my classmates. The stench was so overbearing that I almost puked out my lunch of greasy canteen noodles. "Nyeka!" my friends scoffed. Nyeka, is a blanket term for everything overindulgent and effeminate in Bengali. Needless to say, it was like a big bucket of water on my budding masculinity. 
Since that fateful day, I have decided I will never complain about stinky toilets. At least not in company.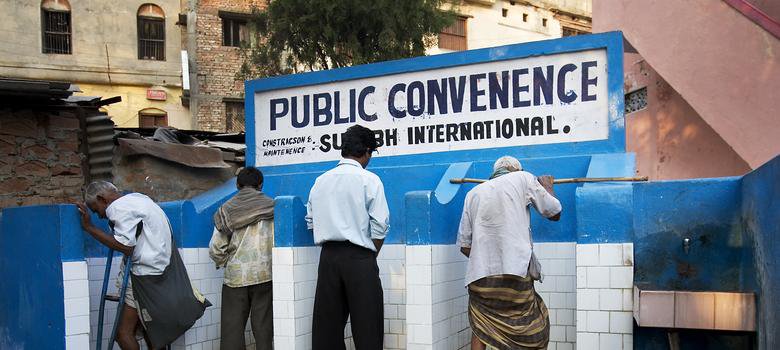 From the cavernous New Market toilets, where the ceiling is as damp as the floor, to the overwhelming squalor of the Howrah station loos, an average Kolkatan has braved them all, armed with a flimsy handkerchief over his or her nose. At times, not even that. 
"When you reach Howrah station, no need to follow signs, follow the stink," says Mayuri Bhattacharjee of Sikun Relief Foundation, which works for improving the state of sanitation in urban areas. According to Bhattacharjee, Indians in general don't really care for public toilets. "We lack good toilet etiquette as citizens," says Bhattacharjee. 
Who cares for the nagging smell of ammonia in the air, when there is phuchka to be wolfed down. 
Phuchka  brings us to Vivekananda Park, a residential area of south Kolkata which finds itself mentioned in almost all must-visit listings of the city as its "phuchka hub". Seasoned Kolkatans will tell you that the locality is famous for one more reason, its stinky public toilets. 
The public toilet of the park, which is a bit more than a sniffing distance away from the place where phuchkawallahs have their stalls, is considered to be one of the stinkiest in the town. "Every time I bring a guest to sample phuchka from the area, I make it a point to avoid walking by that loo. For I know for sure they will not be able to stand the stench," says Debjyoti Ghosh, a human rights lawyer. 
Kolkata's smelly loos doesn't seem to bother its queer community. The most popular cruising spots in the city are some of its public toilets. Cruising spots, for the uninitiated, are public places where men congregate in order to meet for anonymous sex. 
Barun Chakraborty (named changed on request), who studies in a reputed college of the city and commutes from the suburb of Srerampore every day, meets men in public toilets for casual encounters. "There are many public toilets in the city which turn into cruising spots after sundown. We are immune to the stench now, what choice do we have anyway?" he asks. 
Ironically,  as far back as 1878, the Bengal Government had enacted a law to set up toilet facilities in Kolkata, then Calcutta. "Kolkata was then the capital of British India then. There was a sustained movement to make it a modern urban city. Public toilets were considered to be a step towards modernisation. However, Indians of the time had some reservations using public toilets it seems," informs GM Kapur of Indian National Trust for Art and Cultural Heritage. 
According to Anthony Khatchaturian, who conducts historical walks around in Kolkata, the oldest public toilet in the city is rumoured to be the one near the Chaplin Park in central Kolkata, which dates back to at least the late 1800s. "It looks like a mini Raj Bhavan and raises a royal stink," says Khatchaturain.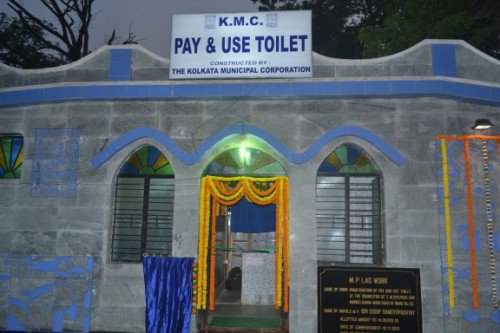 That cavalier attitude towards public toilets sustains. Sucharan Das, a caretaker of a Sulabh pay and use  toilet near Chandni Chowk in central Kolkata claims that it is difficult to keep the toilet clean because of careless users. "We have two sections, one is the pay and use section and the other one can be used for free. The pay and use one is cleaned three to four times a day. The one that can be used for free is cleaned only once a day. People hardly use the pay and use one, even though the charges are just Rs 1 per use," says Das. To maintain a pay and use toilet of medium size costs about Rs 25,000 per month. "We have given up on making that much money. We are just running at loss," he says. 
(Feature image credit: Suvojyoti Ray)