Raking up an old issue, RJD Chief Lalu Prasad Yadav took a dig at Arvind Kejriwal over the hugging saga and asked if the Delhi CM is a "filmy heroine" that he would forcibly hug him. 
"Kejriwal claimed I forcefully hugged him during a rally in Bihar. Is he a heroine from Mumbai that I would forcefully want to hug him," Lalu asked.
In November 2015, after the image of Kejriwal embracing Lalu Prasad Yadav went viral, Delhi Chief Minister Arvind Kejriwal was heavily criticised for his actions.
 However, he defended his anti-graft credentials by saying it was the RJD chief who "pulled and hugged him", and it did not amount to an "alliance".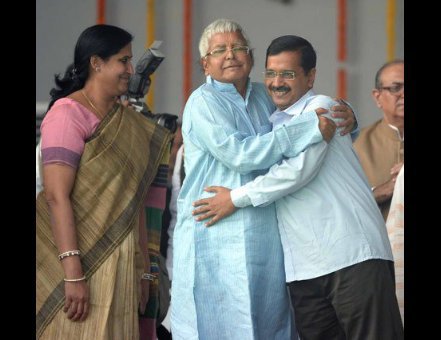 Yadav also slammed the Delhi Chief Minister for daring the Centre to arrest Congress President Sonia Gandhi whose name appeared in the Italian court order in the AgustaWestland chopper scam.
"This is too much," said Yadav. He also added that "Kejriwal is speaking like Subramanian Swamy."
(Feature image source: PTI)