Vikram Singh Chauhan, the face of two brazen attacks on journalists and JNU students and teachers at a court complex here last week, was arrested today in connection with the assaults. Chauhan was caught on camera leading a group of lawyers in mounting the assaults on two occasions — February 15 and 17 — at the Patiala House court complex, triggering widespread outrage and condemnation.
The lawyer appeared before the police, six days after he was served summons in connection with the violence in the court complex. The lawyer was booked for rioting, unlawful assembly and causing hurt, and was released on bail hours later. 
There have been angry protests over alleged police inaction against the lawyer though he was the most prominent among the lawyers involved in unleashing violence at the court complex on two occasions.
On Monday, a news channel had aired a sting operation in which the lawyer was seen boasting about beating JNUSU President Kanhaiya Kumar, charged with sedition, when he was brought to the court on February 17.
In the video, he was purportedly heard saying "We bashed him (Kumar) for three hours. He wet his pants. We beat him up so much." Before presenting himself to police, Chauhan today said "None of the charges against me have been proved. Few channels are projecting me as a goon. I did not beat the reporters. Others did."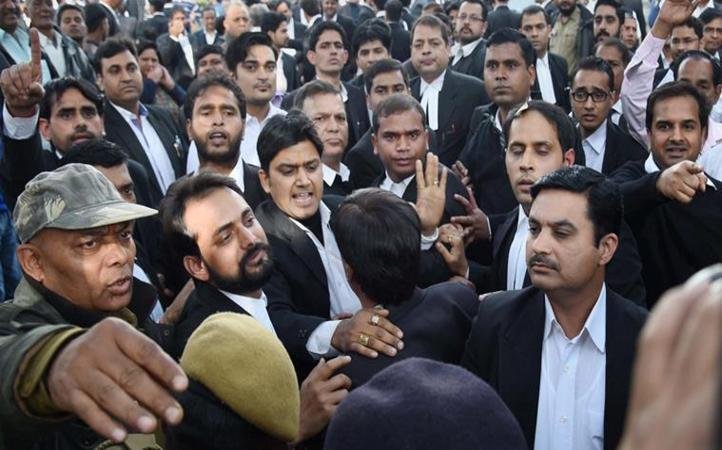 Groups of lawyers led by Chauhan had thrashed journalists and JNU students and teachers on February 15 and repeated their act on February 17 against Kumar and some journalists, in open defiance of Supreme Court instructions.
"While one case against Chauhan pertains to the February 15 incident, the other relates to the violence on February 17," a senior Delhi Police official said.
Yashpal Singh, one of Chauhan's colleagues who was also caught on camera thrashing journalists and JNU teachers and students, was arrested last night and released on bail immediately.
All images sourced from PTI