A day after Human Rights Activist Irom Sharmila filed papers for her marriage at the Sub-Registrar's office in Kodaikanal on Wednesday, a local activist V. Mahendran submitted a petition against her decision, urging the government to deny her permission, reported The Hindu.  
Irom Sharmila who is all set to marry fellow activist Desmond Coutinho who is a British citizen in August was met with rather hostility from the local activist who has protested her decision. 
He fears that post their union they will permanently settle in Kodiakanal, disrupting the peace of the area through their activism.
Recently, in a TV interview, Irom Sharmila hinted towards extending her support to the tribals in the hills which did not go down well with V. Mahendran. He has also claimed that her partner, Desmond Coutinho is an equal threat as he manages a website that engages with activists across the world. 
Expressing his concerns, he informed The Hindu that if tourists, both Indian and International start settling in Kodaikanal post her marriage, it will disturb the peace on the hills.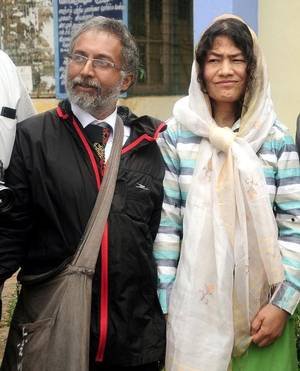 Reports suggest that it was V.Mahendran who received Irom Sharmila first when she arrived in Kodaikanal.
"When I met Irom Sharmila in Kodaikanal during her visit to Bodhi Zendo near Perumal Malai, she said that she came to Kodaikanal to lead a peaceful life. I welcomed her then, as she was a renowned activist," he stated in the petition.
(Feature image source: Twitter)