If you were an Indian with a passing interest in sport and had access to Internet or basic cable, there is absolutely no way you were not following the Olympics badminton final between PV Sindhu and Carolina Marin. On your television, on your phone, on your office desktop because your annoying boss wouldn't let you go home early enough, on your neighbour's television — with or without their consent.
There was absolutely no way you would miss this occasion — an Indian with a shot at winning the Olympic gold medal. That does not happen often. Just ask Abhinav Bindra how lonely its been for him.
And chances are that, before the final began, you were an odd mix of a nervous wreck and an excited fan. Because she was taking on the best in the world. You knew she was going to win a medal either way, but you badly wanted it to be a gold. We all did. We also just hoped Sindhu would give Marin a fight. Take her all the way.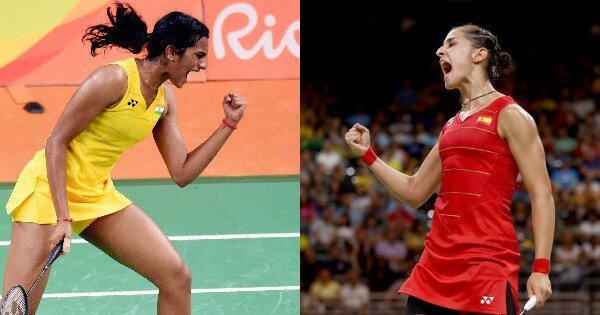 The commentator on the English feed of Star Sports made the mistake of thinking that Sindhu was just happy to be in the final but Marin was there for gold. After that miraculous comeback to end the first game when Sindhu took five points on the trot to stun Marin, it was evident Sindhu was not there to make up the numbers. It takes two to tango and tango at her best Sindhu did. The commentator gracefully accepted her fault in judgement. Sindhu was not settling to be the second best. 
Alas, if only the Indian media knew better.
Barely minutes after the match was over, it began.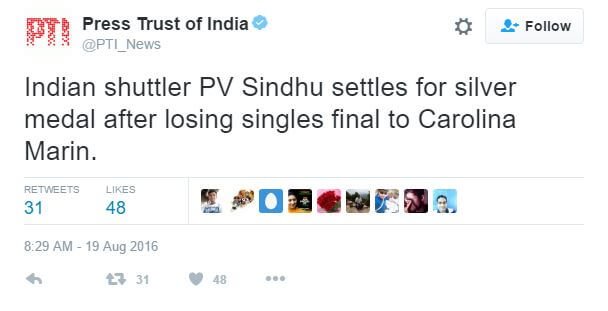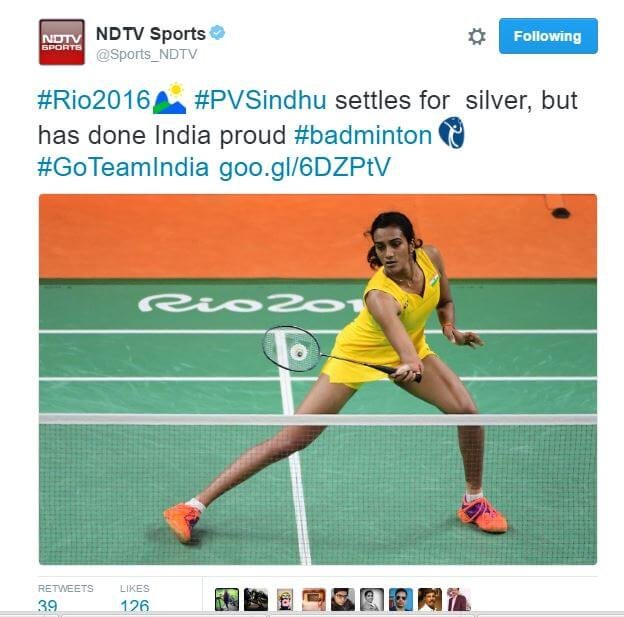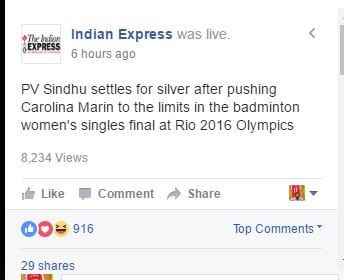 A big part of what constitutes sports journalism — or journalism of any kind for that matter — is to provide context to an event that happened. Sports fans, which constitutes the reporters and the readers who consume what is being reported, thrive on emotion. And as a fan, it is painful to see this constant putting-down of achievements. 
Yes, it is primarily about reporting facts. And the fact is Sindhu *won* silver. She earned that silver medal by beating the World No. 8, 2 & 6 and taking the #1 all the way. She did not "settle" for it. 
She gave it everything she got. She ran Marin ragged. She matched her smash for smash, scream for scream. She then went up to Marin at the end to congratulate the Spaniard, and tearfully embrace her. In more than the sense of the word, she was a winner. She was satisfied with the silver at the end, but for over an hour she gave nothing but her best to win that gold.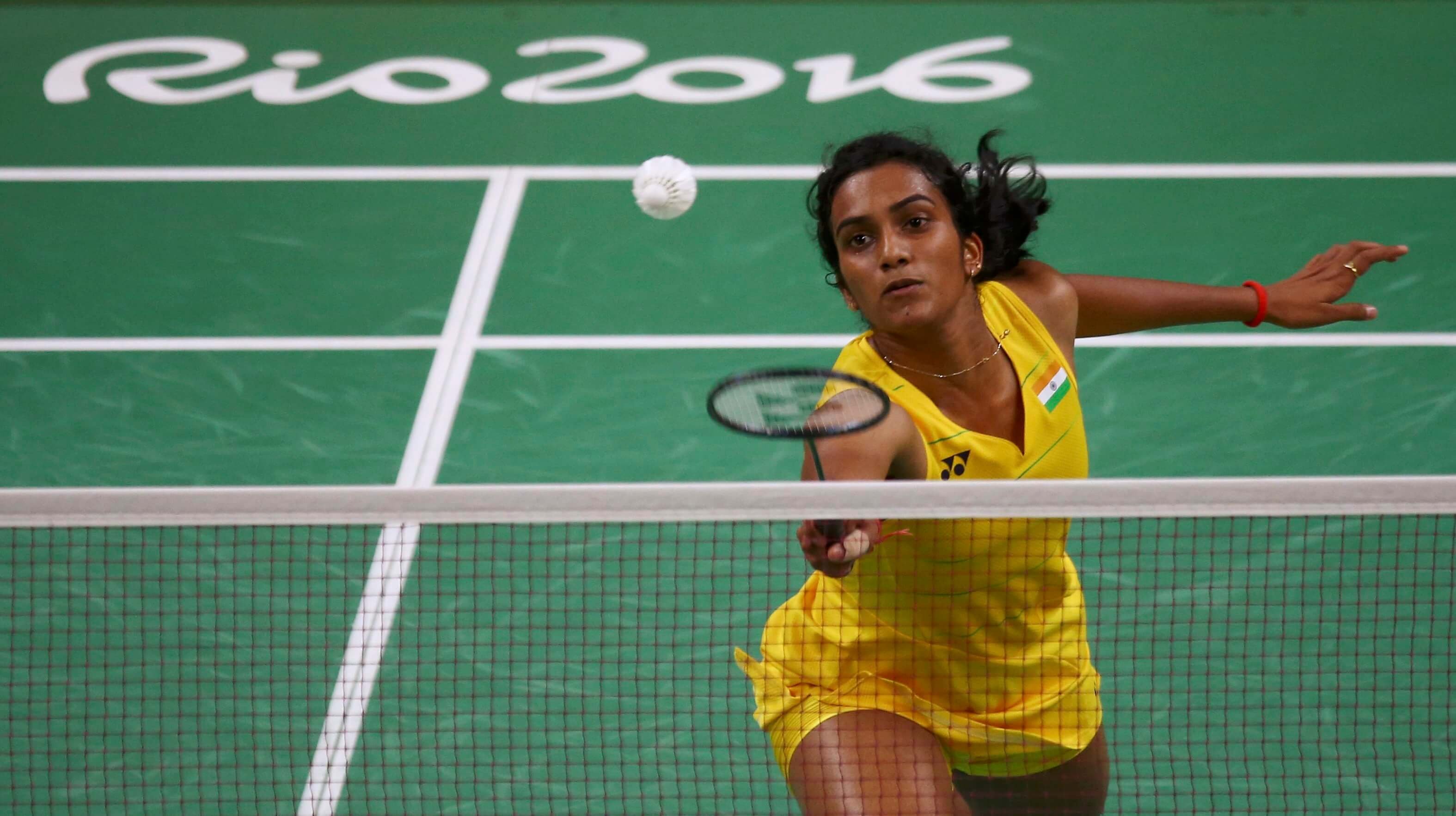 This is not just about semantics. And this is definitely not an attempt at name-calling or finger-pointing. We are not trying to take the ethical high ground here either, for all those who are about to dig up a four-month old article on ScoopWhoop which had a similar headline. 
This is merely to point out that the way we report sports needs an overhaul. A break away from cliched terms. Sindhu did not settle for silver. Dipa Kamakar & Abhinav Bindra did not fail to win a medal at Rio 2016. Jitu Rai did not finish last in the 10m air rifle event. 
Sharda Ugra, one of the most respected sports journalists around, wrote this exceptional article — an article which should be a ready reckoner for everyone in our profession — after London 2012. Just read and realise how much of it still holds true:
"While there are many reporters in print and TV who do exceptional reporting with fairness, perspective, and accuracy, the louder and more general tone of Indian Olympic coverage in the media has, across decades, embraced derision."
"Perhaps this mindset of dismissive scorn for Olympic athletes passes through wire services and the news desks across newspapers and television like a self-sustaining virus which infects a few in every new generation coming through and rising to positions of authority."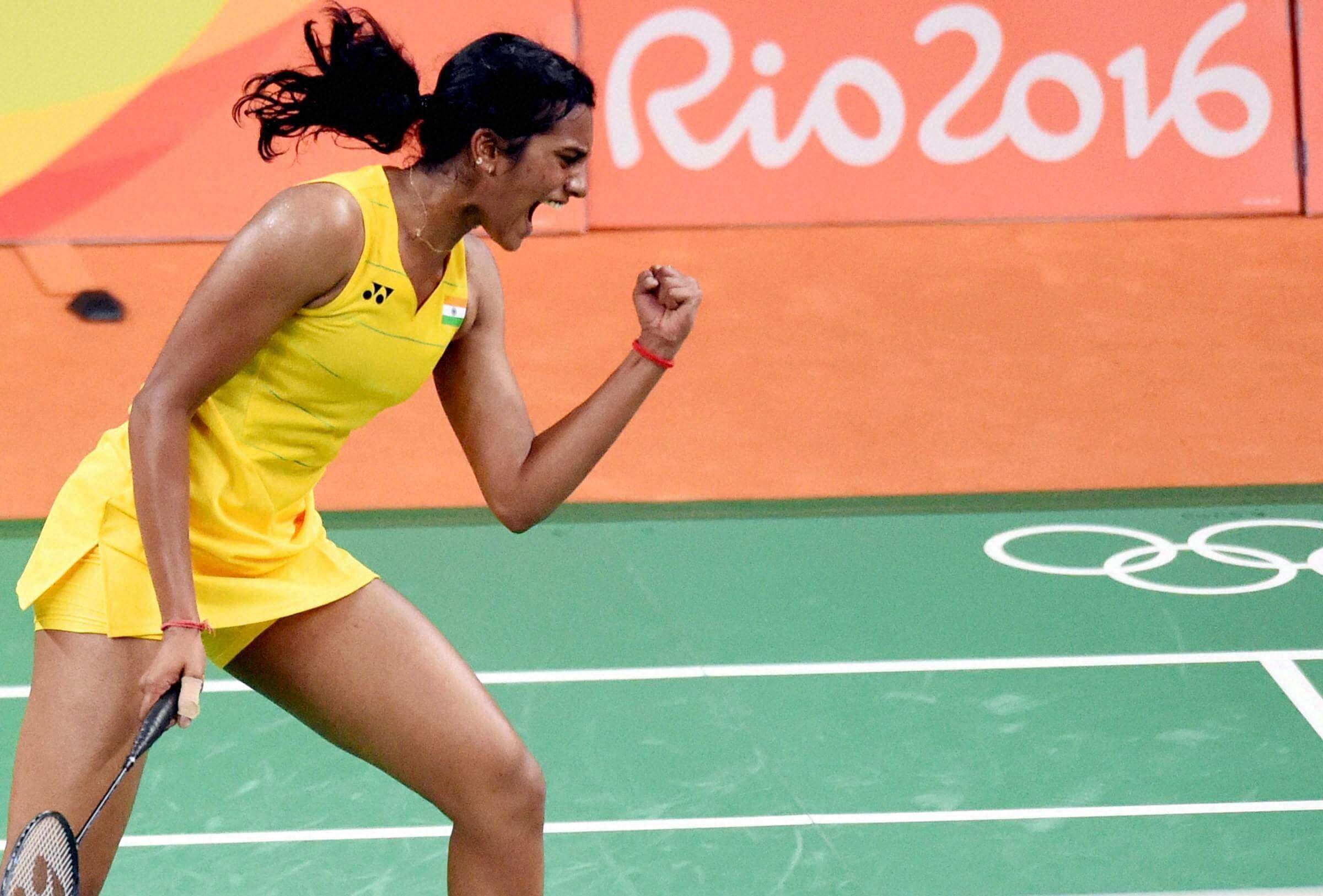 It's important to understand that the alternative to this is not glorification of failure. No one is saying we should stop criticism. But every time we add an adjective to the headline — "lowly" 8th, "disappointing" 14th, so on and so forth, we are passing a judgement on the athletes performance from the vantage point of sitting behind a laptop or desktop. Washing away years of hard-work, overcoming hurdle after hurdle, with one fell swoop of our keyboards. 
Make no mistake, the entire nation is proud of what Sindhu has achieved. The two-time World championship bronze medallist is, after all, the first ever Indian woman to win a silver medal in Olympics. 
I'm sure the person behind those tweets and headlines was proud of Sindhu and genuinely disappointed with rest of our athletes not winning. But it is very important to use the right words that take into account the hardships of being a non-cricket sportsperson in India.
That's the thing about being a journalist — all we have got are words. And what is the point of it all if we don't use the right ones.