West Bengal Chief Minister Mamata Banerjee today announced a judicial inquiry into the communal violence that rocked Baduria and Basirhat in North 24 Parganas district where life was slowly returning to normal.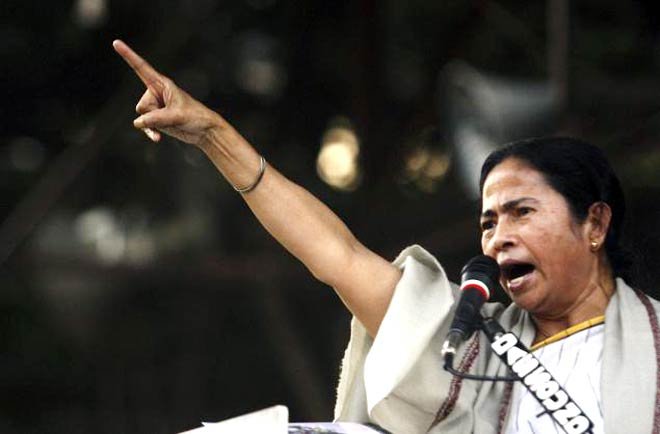 The feisty West Bengal Chief Minister also accused the Modi government and the BJP of trying to "disturb peace" and "destroy" the federal structure by allowing people from across the border to enter the state and vitiate the atmosphere.
Meanwhile, The Superintendent of police of the district and Inspector General of Police (South Bengal) have been transferred, while a 3-member team of BJP MPs was prevented from visiting Basirhat due to apprehension of trouble.
Internet services remained suspended to check spread of rumours which could aggravate the situation.
"This is the ploy of BJP!"
"We have decided to order a judicial probe into the Baduria and Basirhat riots. We want to see who were involved and the state government will provide every input to the judicial commission. Let there be an impartial probe," Banerjee told reporters.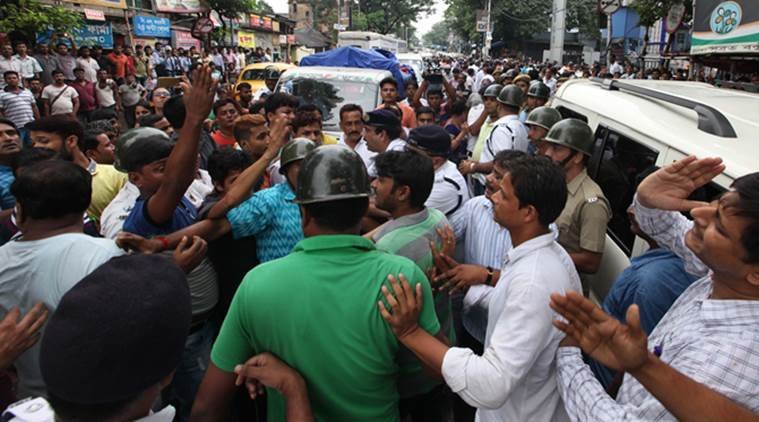 At loggerheads with the Modi dispensation quite often, Banerjee alleged the BJP was "destroying the federal structure of the country with the sole aim of grabbing power".
"How can some people from across the border intrude and start disruptions here? Who is in charge of border security, the Centre or the state? Once again I am saying, it is the ploy of the BJP to disturb the peace of the state," she said.
Banerjee said law would take its own course and strict action would be taken against those behind the riots.
North 24 Parganas SP removed 
Superintendent of Police of North 24 Parganas Bhaskar Mukherjee has been removed and C Sudhakar appointed in his place. IG (South Bengal) Ajey Mukund Ranade has been shifted to CID and Sanjay Singh, Director in the Directorate of Economic Offences, will take his place.
A man was arrested from Sonarpur in South 24 Parganas district for allegedly trying to incite communal violence, police said.
"Fake videos creating trouble"
Bhabatosh Chatterjee (38) of Rupnagar in Sonarpur was arrested from his residence yesterday for allegedly uploading a still photograph on social media and claiming it was an image of Baduria, a senior Kolkata Police officer said.
Banerjee also said her government would take action against two national TV channels for showing "fake" videos and "fomenting trouble".
BJP MP Meenakshi Lekhi not allowed to enter Basirhat
A three-member BJP MP delegation comprising Meenakshi Lekhi, Om Mathur and Satypal Singh was today stopped and detained by the police at Michael Nagar near the airport when they were heading to Basirhat to take stock of the situation.
Lekhi told police that if the situation was under control in Basirhat then why were they not allowed to go there.
"We are MPs and only we three will go there. You accompany us," she told the police. However, the delegation's repeated pleas for permission was rejected.
Commenting on the attempts by political parties to visit the riot-hit areas, the chief minister said, "Where is the need to disturb the people there? Let them settle down.
Trinamool MPs did not go. They could have gone also".
The state administration did not allow Congress, left and BJP teams to visit Basirhat yesterday.
Meanwhile, shops and markets reopened and vehicles started plying in the strife-torn areas. No untoward incident was reported from anywhere in the district since yesterday, a senior home department official said.
A large number of police personnel and paramilitary forces, however, remained deployed in sensitive areas.
"We'll keep the forces deployed. We are keeping a close watch on everything," he said.