Locals and officials of Nalanda district in Bihar today went into a tizzy over report of hoisting of a flag resembling the national flag of Pakistan at a house located in Kharadi colony. As the incident took place in the home district of Chief Minister, Nitish Kumar, it sparked immediate political reactions. 
Private TV channels showed the green flag with moon and crescent hoisted at the house of one Anwarul Haque in Kharadi colony in Biharsharif, district headquarters of Nalanda.
Around 6 am, the local police got a call that somebody hoisted a Pakistani flag at the top of a residential building in Nalanda's Kharadi Mohalla area. Immediately, a team of policemen rushed to the spot and removed the flag and the local police was asked to investigate the matter.
The owner of the house, Anwarul Haq, "admitted to hoisting the flag", a district administration source said. "He believed that it would help his wife give birth to a baby boy."  He has now been arrested.
A person has been arrested in connection with placing of Pakistan flag at a terrace in Nalanda district of Bihar.

— ANI (@ANI_news) July 21, 2016
Shabana Anwar, Haq's daughter, also told PTI, "We are hoisting this flag on the occasion of Muharram for past five years".
SDO Sudhir Kumar said the matter is being investigated, including veracity of the flag, whether it was actually the national flag of Pakistan.
As the news flashed on TV channels, opposition attacked the Nitish Kumar government over the episode. Senior BJP leader C P Thakur demanded stern action into the matter.
Former Bihar CM Jitan Ram Manjhi has also attacked CM Nitish Kumar over the hoisting of Pakistan flag in his home district. He said that Nitish should first look into his house where anti-national activities were taking place.
"Rather than going across the country, Nitish should first look into his house where anti-national activities is taking place", said Manjhi.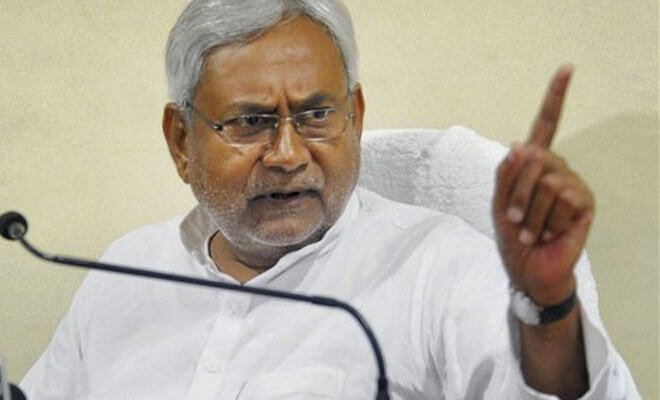 Hindustani Awam Morcha (HAM), an ally of BJP, spokesman Danish Rizwan said "efforts are on to turn Bihar into Jammu and Kashmir. The centre should intervene immediately to stop such anti-national activities in Bihar."
Earlier, pro-Pakistan sloganspro-Pakistan sloganspro-Pakistan slogans were chanted on the streets of Patna in support of Islamic preacher Zakir Naik and AIMIM chief Asauddin Owaisi.