Are you team blue and black or team white and gold? If you were team white and gold, it would come as a great relief to you that there is nothing wrong with you. Scientists from Massachusetts Institute of Technology have finally cracked the big mystery about "The Dress" that split the internet.
In a survey of 1400 individuals with 300 who had never seen "The Dress" before, scientists found that those who saw white and gold had recently been exposed to natural light. While those who saw blue and black may be spending most of their time surrounded by artificial light sources.
Neuroscientist Bevil Conway believes "The Dress" phenomenon marked the greatest extent of individual differences in colour perception ever documented.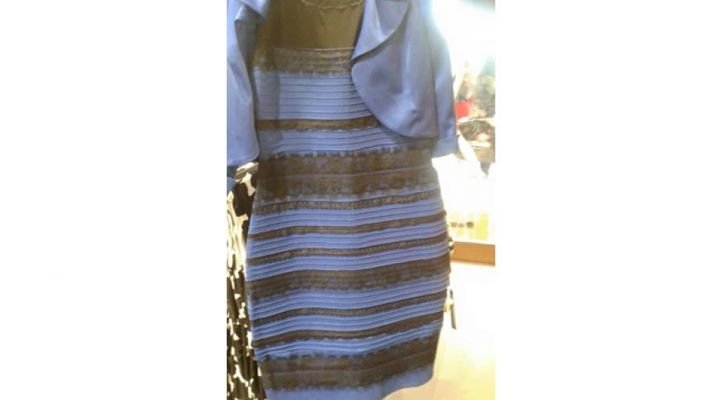 Conway, who teaches at Wellesley College and MIT, and his team designed an experiment in which they asked people to define the colour of "The Dress" using a full colour palette.
In February, 21-year-old singer Caitlin McNeill posted a picture on her blog of a dress that was black and blue but was being perceived by some people as white and gold. The image went viral, thousands of people feverishly debated the subject, even celebrities such as Taylor Swift joined in to speculate.
I don't understand this odd dress debate and I feel like it's a trick somehow. I'm confused and scared. PS it's OBVIOUSLY BLUE AND BLACK

— Taylor Swift (@taylorswift13) February 27, 2015
They found impressive individual differences in colour perception; they also found that people fall into one of three camps corresponding to the main groups identified by social media: a blue/black camp, a white/gold camp, and a smaller blue/brown contingent.
IT'S A BLUE AND BLACK DRESS! ARE YOU FUCKING KIDDING ME

— Mindy Kaling (@mindykaling) February 27, 2015
"It could have been the case that you had a continuum of perceived colours, but if you plot the colours people picked, you see two main clumps falling into the two categories for what words people used to describe the colours of 'The Dress,'" said Conway.
The research also found that older people and women saw "The Dress" as white and gold, where as younger people saw it as blue and black. Conway believes that these differences in perception may correspond to the type of light that individuals' brains expect to be in their environment.
What color is that dress? I see white & gold. Kanye sees black & blue, who is color blind?

— Kim Kardashian West (@KimKardashian) February 27, 2015
"Your visual system has to decide whether it gets rid of shorter, bluer wavelengths of light or the longer, redder wavelengths, and that decision may change how you see 'The Dress'," he said.
All in all the mystery has been solved. A big thank you to the internet, without which, one may never have known that exposure to natural light can cause the colour of certain objects to drastically change.
(With inputs from PTI)