A mob vandalised CMRI hospital in the Ekbalpore area of South Kolkata on Wednesday and assaulted several hospital staff members after the death of a child who had been brought there for treatment. 
The mob resorted to violence after alleging medical negligence during the treatment of the girl, who had been admitted with abdominal pain. Doctors claimed that they had planned a surgery but the patient died before they could perform it, reports the Times of India. 
After 16-year-old Saika Parveen died at the hospital on Wednesday, a mob from the nearby Babubazar area entered the CMRI premises and broke glass panes, computers and other materials at the reception and billing office.
The rampage went on for close to an hour. Relatives of patients admitted at the hospital and at the out-patients department fled the premises due to the chaos. The angry relatives of the patient claimed that the hospital had taken money before beginning treatment after which the girl was not provided with any.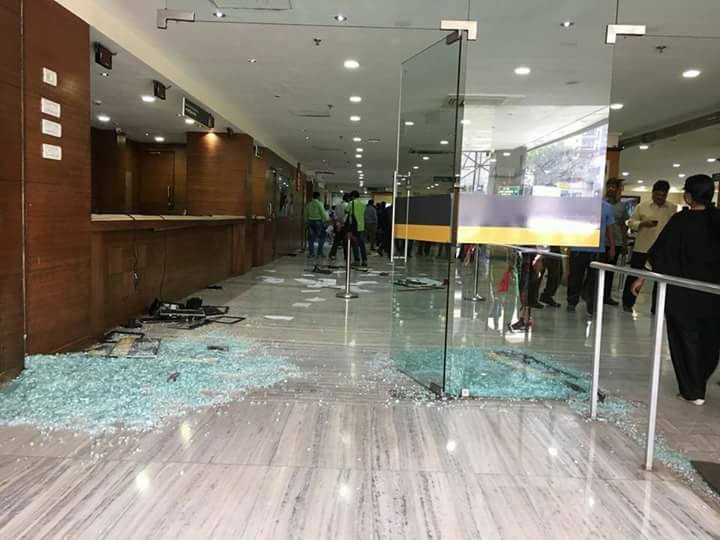 The mob also blocked a road that resulted in a traffic jam. It took a large contingent of the police, led by senior officers, to persuade the agitators to end their protest and bring the situation under control.
Was it a planned assault?
Police sources said that the vandalism may have taken place at the behest of local politicians, who instead of restraining the agitating people, supported their cause. Local political leaders who arrived at the site tried to justify the attack by telling the police that mob was angry about the hospital overcharging the father of the girl, reports The Telegraph. 
A CMRI employee said that there had been many instances of "patient parties" resorting to agitation but this is for the first time that the hospital staff has been attacked. 
(With inputs from PTI)
(Feature image source: Twitter/@ANI)