You hear news about abduction, murder, theft, but have you ever seen a man walking around with a sword in the 21st century? Exception: Game Of Thrones . On Tuesday, August 11, a shopkeeper in Mumbai almost became a victim to a sword-wielder. He would have ended up armless had a second man, present in the shop, not stepped up and defended him.
The incident happened at 8.25 pm. The CCTV camera captured an unidentified masked man, dressed in black, who stormed into the shop and nearly chopped off an arm of the shopkeeper. Another man who was present at the scene, as visible in the CCTV captured footage, pushed the attacker away. It is not clear if the other man is a customer.
According to International Business Times, a man attacked the shopkeeper for raising his voice against the local goons in Chembur, Mumbai.
"Physically challenged shopkeeper, Rajnish Thakur, was allegedly attacked with a sword in suburban Chembur following which four persons have been arrested. The incident took place on Tuesday evening when the main accused Akram Sheikh (28) entered the shop of Rajnish Thakur (36) at PL Lokhande Marg in Chembur and attacked him with a sword. Thakur, who is physically challenged, was saved from the attacker by a customer inside the shop who managed to overpower Sheikh," said Bhagwat Sonawane, senior inspector of Tilak Nagar police station.
Sheikh is a part of a gang of drug addicts which has been extorting money from shopkeepers for sometime. The gang had been allegedly trying to extort Rs 1500-2000 every month from the 200 odd shops on PL Lokhande Marg area of Chembur while threatening to damage their establishments. Rajnish Singh Thakur, and his brother Manish Singh Thakur, had teamed up with other shopkeepers and started distributing flyers where shopkeepers were advised to report such incidents to them.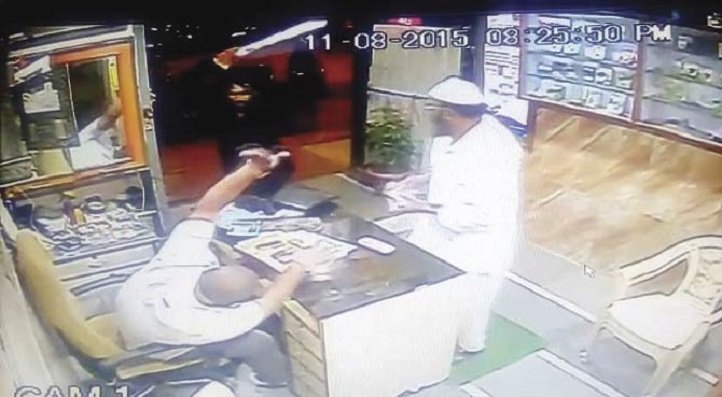 S ource: mid day
(With inputs from PTI)