A powerful earthquake struck Nepal and sent tremors through northern India on Saturday , killing hundreds of people, toppling a 19th-century tower in the Nepalese capital Kathmandu and triggering a fatal avalanche on Mount Everest, killing 10 people.
There were reports of devastation in outlying areas of the Himalayan country after the quake struck with a magnitude of 7.9, its epicentre 50 miles (80 km) east of Nepal's second largest city, Pokhara.
The worst quake to hit the impoverished Himalayan nation in 81 years also caused damage in neighbouring Indian states and Bangladesh . The quake was shallow, intensifying the amount of energy released over a relatively small area.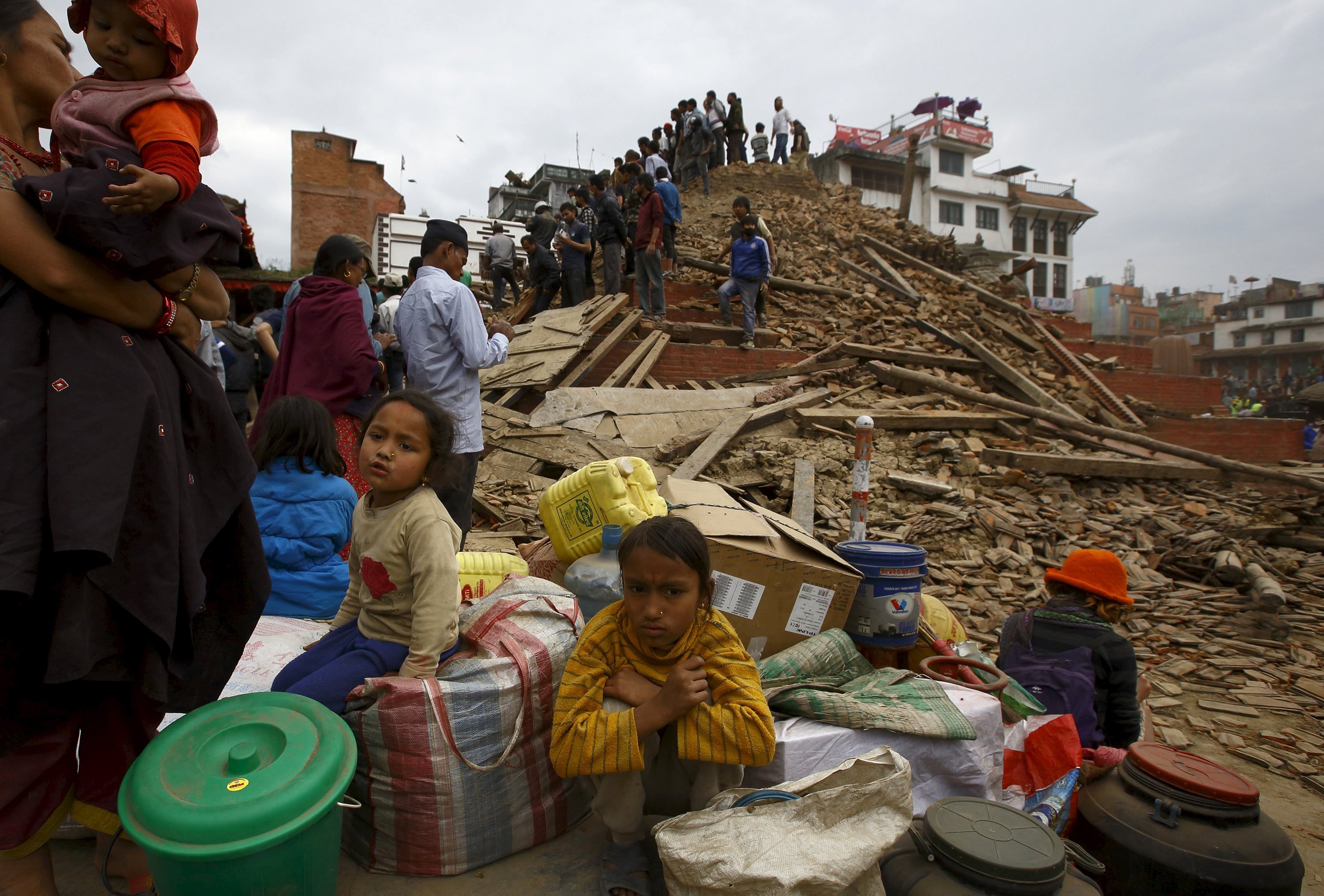 A police spokesman said the death toll had reached 758, most from the Kathmandu Valley. There was little information coming from the outlying areas of the mountainous country and helicopters were circling overheard to get a better sense of the damage.
"Hundreds of people are feared dead and there are reports of widespread damage to property. The devastation is not confined to some areas of Nepal . Almost the entire country has been hit," said Krishna Prasad Dhakal, deputy chief of mission at Nepal's Embassy in New Delhi.
A tourism official said eight people were killed by an avalanche unleashed by the earthquake that swept through the Everest Base Camp for climbers of the world's highest mountain.
"The toll could go up, it may include foreigners as well as sherpas," Gyanendra Shrestha said.
A collapse in communications was hampering efforts to launch relief efforts across Nepal's rugged terrain.
"We are totally cut off from most parts of our country," said Ram Narayan Pandey of the Nepal Disaster Management Authority, who was coordinating relief efforts from Kathmandu.
A 1934 quake of magnitude 8.3 in Nepal killed over 8,500 people.
The death toll in northern India rose to at least 12, with six killed in house collapses in Uttar Pradesh and six more dying in Bihar further east, according to government officials. One person died in Bangladesh.
Tower toppled
A 19th century tower collapsed in Kathmandu when the quake struck shortly before noon local time. A policeman said that up to 200 people had been trapped there.
The Dharahara Tower, built in 1832, was a landmark that had been open to visitors for the last 10 years and had a viewing balcony.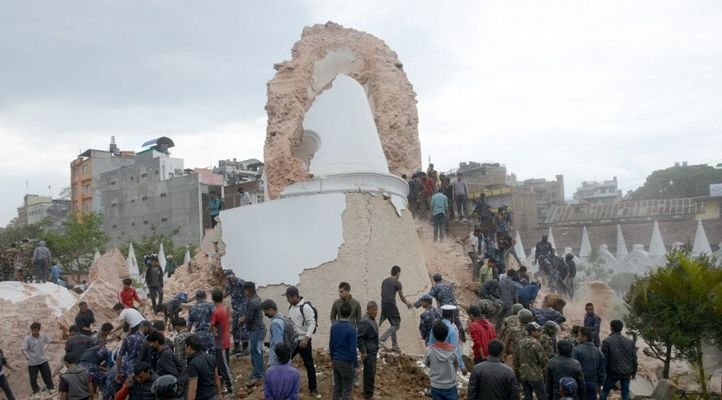 A stump just 10 metres (33 feet) high was all that was left of the 14-storey structure. Several bodies were brought away from the ruins.
At the main hospital in Kathmandu, people with broken limbs and arms were being rushed in for treatment. Crowds and volunteers formed human chains to clear the way for ambulances to bring in the injured.
Television news footage showed people being treated on the streets outside hospitals and several bodies lying in rows, covered in blankets.
Kathmandu is home to ancient, wooden Hindu temples. Photographs posted online showed buildings reduced to rubble, with large cracks along roads and residents sitting in the street holding babies.
Everest Avalanche
The avalanche buried part of the base camp, raising fears for the safety of hundreds of climbers who were in the area, said Gyanendra Shrestha of the Tourism Ministry in Kathmandu .He said two tents at the camp had been filled with the injured. "The toll could go up, it may include foreigners as well as sherpas (guides)," he said.Ministry officials estimated that at least 1,000 climbers, including about 400 foreigners, had been at base camp or on Everest when the earthquake struck.
Romanian climber Alex Gavan said on Twitter that there had been a "huge avalanche" and "many, many" people were up on the mountain. "Running for life from my tent," Gavan said. "Everest base camp huge earthquake then huge avalanche."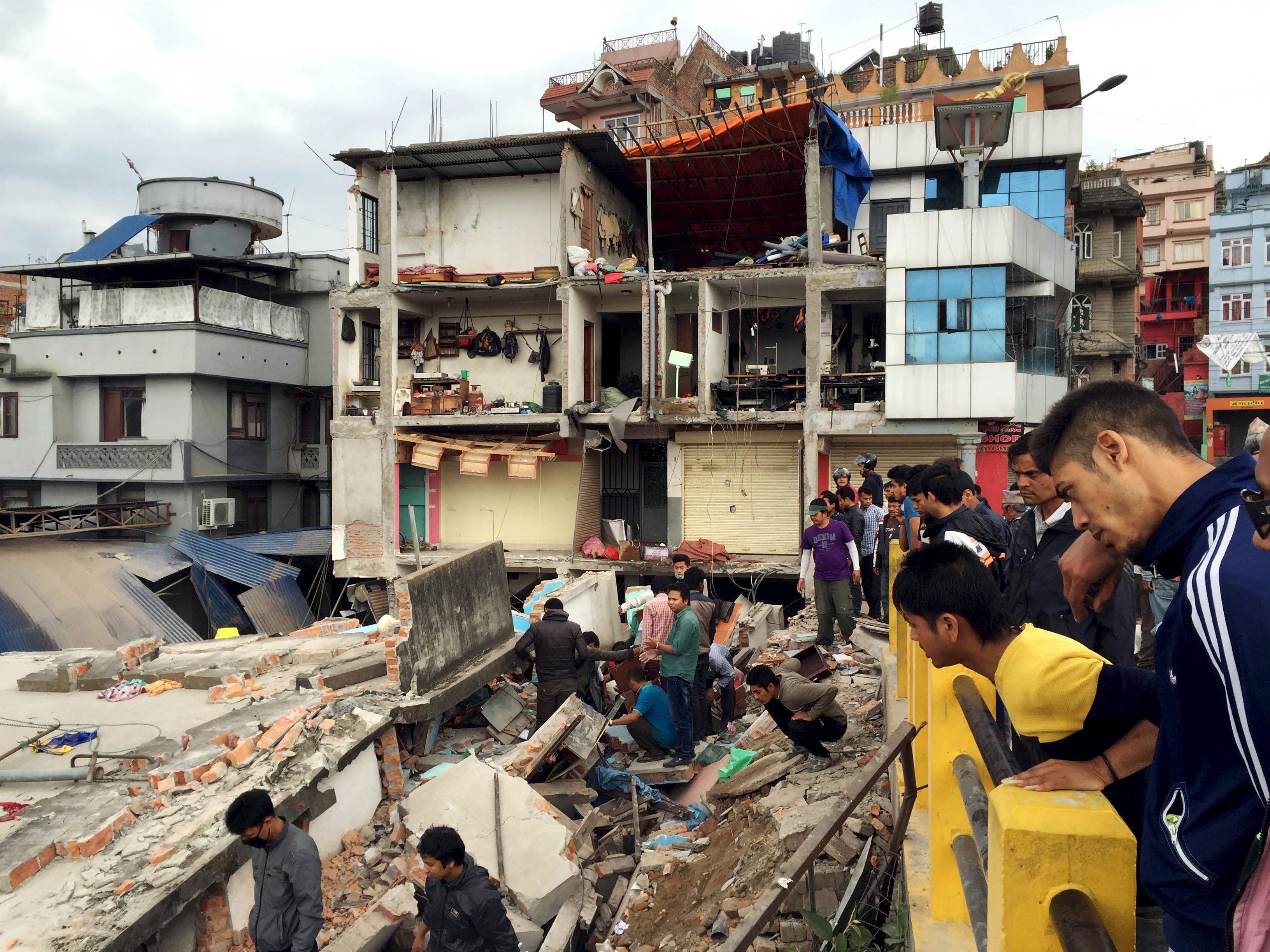 Another climber, Daniel Mazur , said Everest base camp had been "severely damaged" and his team was trapped.
"Please pray for everyone," he said on his Twitter page.
Mohan Krishna Sapkota , joint secretary in the Nepalese tourism ministry, said the government was struggling to assess the damage on Everest because of poor phone coverage."The trekkers are scattered all around the base camp and some had even trekked further up," Sapkota said. "It is almost impossible to get in touch with anyone."
Choti Sherpa , who works at the Everest Summiteers Association , said she had been unable to call her family and colleagues on the mountain. "Everyone is trying to contact each other, but we can't," she said. "We are all very worried."
An avalanche in April 2014 just above base camp killed 16 Nepali guides.
Far and wide
Tremors were felt as far away as New Delhi and other northern cities in India , with reports that they had lasted up to a minute.
"Massive tremors have been felt here in Delhi and several other parts of India ," said a newsreader on NDTV in Delhi .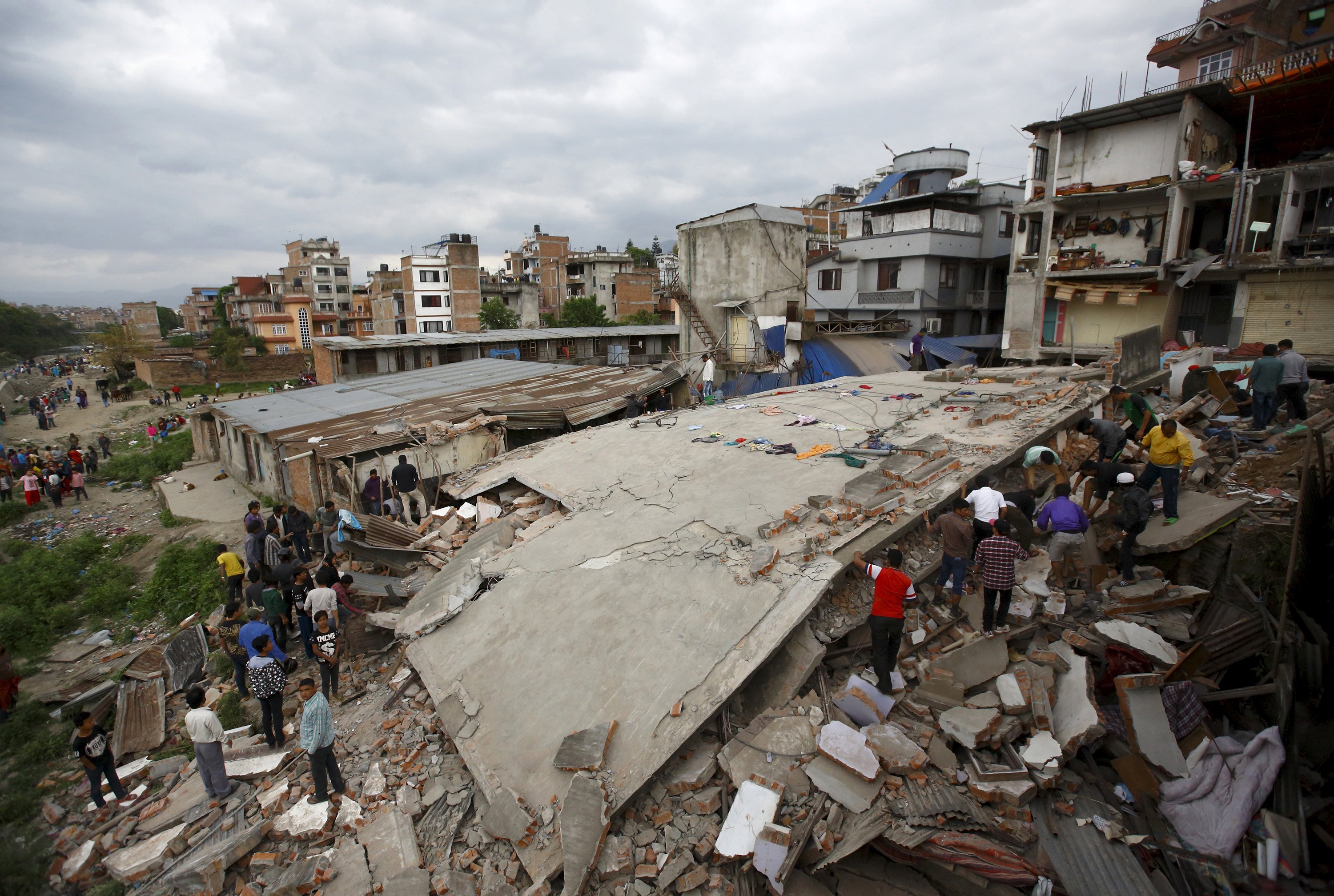 "You can see pictures of our Delhi studios, where the windows rattled and everything shook for a very long time, for a minute perhaps or longer," she said as footage showed studio ceiling camera lights shaking.
The U.S. Geological Survey said the quake, initially measured at 7.7 but upgraded to 7.9 magnitude, struck 80 km (50 miles) east of Pokhara. It was only 2 km deep.
"We are in the process of finding more information and are working to reach out to those affected, both at home and in Nepal ," tweeted Indian Prime Minister Narendra Modi .
He convened a high-level meeting with ministers and top officials to assess the situation. There were no preliminary reports of damage anywhere in India , Home Minister Rajnath Singh told the Press Trust in India .