News Wrap of the Day
Also in News
Are Newer Apps, Tools For Rape Alert Helping India's Women Feel Safer?
Charleston Shooting Brings Up Questions Of Race, Terrorism And White Supremacy
Mumbai Hooch Tragedy Kills 84, Toll Continues To Rise. 8 Cops Suspended
Smuggling 1.5 Kg Cocaine In Her Breasts, 22-Year-Old Arrested At Colombia Airport
22-Year-Old Woman Gang-Raped At Gunpoint By 7 Men In A Gurgaon Guesthouse
Sunday Cartoon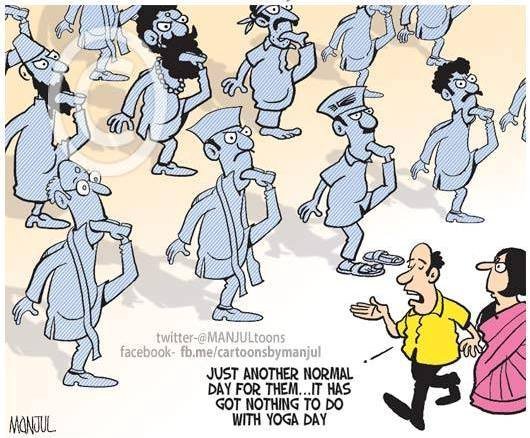 Sports Vine of the Day
Fact
A larger number of Tigers live in American Backyards than in the Wild.
Recipe for the day
Mushroom and Egg White Omelette
(Serves 1)
Ingredients
2 Tablespoons
Olive oil

4 Mushrooms, sliced

2 Scallions (spring onions), sliced

4 Large egg whites

Salt and black pepper

1 ounce Cheese, shredded (1/4 cup)

Directions

1. Heat 1 tablespoon of the oil in a large non-stick skillet over medium heat. Add the mushrooms and scallions (spring onions) and cook, stirring often, until tender, 2 to 3 minutes; remove from the skillet.

2. In a medium bowl, beat the egg whites with ¼ teaspoon each of salt and pepper. Return the skillet to medium heat, heat the remaining tablespoon of oil, and then cook the egg whites until they begin to set, 1 to 2 minutes.

3. Top with the vegetables and Cheddar. Fold the egg whites over the filling.
Playlist of the day