It seems Biju Janata Dal (BJD) MLA Manas Madkami loves his sparkling white sneakers and matching pair of crisp white trousers so much that he wouldn't mind being lifted and carried by his supporters to prevent them from getting dirty.
Videos of the BJD MLA being carried by his supporters to avoid a muddy stretch and keep his shoes dry and clean were doing the rounds on social media websites on Wednesday, reports Hindustan Times.
Madkami was visiting parts of his district along with BJD lawmaker Balabhadra Majhi and another legislator to assess welfare projects. The legislator's car with his party's green flag was seen parked just before the muddy stretch.
According to Hindustan Times, Madkami was reportedly concerned about getting his shoes getting wet. While alighting from the ferry service, Madkami got onto the back of another supporter and crossed over the stretch of water.
The supporters said they did this to save the MLA's expensive shoes from getting wet, The New Indian Express reported. The MLA, however said that two supporters voluntarily carried him on their shoulders. 
"It was the overwhelming affection of supporters which prompted them to act in such manner. They felt elated while lifting me and crossing the water body," he added.
However, Nabrangpur MP Balabhadra Majhi, who was accompanying Madkami walked through the muddy stretch to visit some panchayats in Motu area in the district.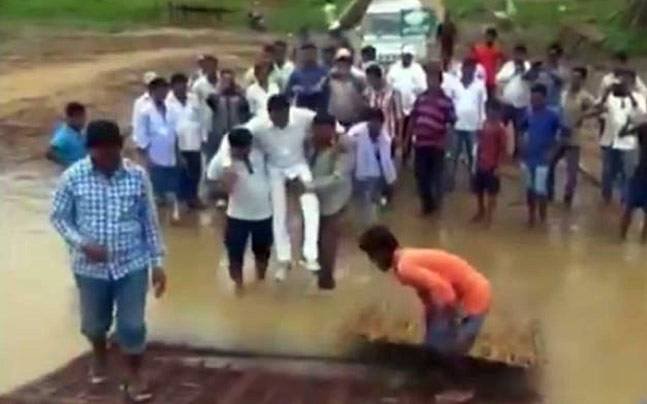 Reacting to this incident, Rama Pattnaik, General Secretary of Malkangiri District Congress Committee said, "The BJD government and its MLAs are torturing the general public and it is shame to Malkangiri district and shame to the BJD government (sic)."
In similar vein, a video showed two women washing the feet of Jharkhand Chief Minister Raghubar Das at a Guru Purnima event in Jamshedpur. Last year, Madhya Pradesh Chief Minister Shivraj Singh Chouhan was criticised after a photo surfaced in which he was lifted by policemen in a flood-affected area.
(Feature Image Source: Twitter)