The controversy that erupted over chanting Bharat Mata Ki Jai last month just doesn't seem to end, as more leaders are getting involved in the debate. While Baba Ramdev earlier talked of changes in the law to make everyone raise the slogan, now he has said that if there was no law in place, he would have cut off the heads of those not saying Bharat Mata Ki Jai.
At a Sadbhavna rally organised by RSS to "restore peace, harmony and brotherhood" in Haryana which was recently hit by riots, Ramdev said that if any religion asks not to honour the motherland, such a religion is not in the interest of the nation, referring to a controversial Fatwa by Darul Uloom Deoband against chanting Bharat Mata Ki Jai, DNA reported.
According to a report by The Indian Express, Ramdev said, "Koi aadmi topi pehan kar ke khada ho jaata hai, bolta Bharat Mata ki Jai nahi bolunga, chahe meri gardan kaat do. Arey is desh mein kanoon hai, nahi toh teri ek ki kya, hum toh lakhon ki gardan kaat sakte hain. Lekin hum is desh ke kanoon ka samman karte hain." ((Some person in a cap stands up saying I will not say Bharat Mata ki Jai even if you decapitate me. This country has a law, otherwise let alone one, we can behead lakhs. But we respect this country's law.)
"Koi aise khada ho ke bol de, isliye in hurdangiyon ke honsle buland ho jaate hain. Hum is desh ke kanoon aur samvidhan ka samman karte hain, nahi toh koi Bharat Mata ka apmaan kare, ek nahi, hum hazaron lakhon ke sheesh kalam karne ka samarth rakhte hain" (If somebody stands up and speaks like this, that gives strength to hooligans. We respect this country's law and Constitution, otherwise if anybody disrespects Bharat Mata, we have the capability of beheading not one but thousands and lakhs).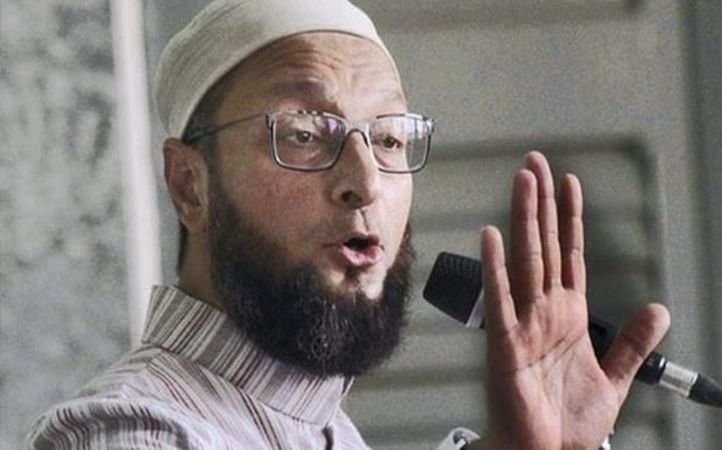 He said that saying Bharat Mata ki Jai has nothing to do with religion, but it was about national "honour, pride and prestige". He said, "We may be Hindu, Sikh, Muslim, Christians, we are Indians first."
Earlier, Asaduddin Owaisi's refusal to say Bharat Mata ki Jai in response to RSS chief Mohan Bhagwat calling for teaching people to raise the slogan sparked off a nationwide debate.