Ousted South Korean leader Park Geun-hye was behind bars in the Seoul Detention Centre on Friday after her arrest, on charges including bribery, in a corruption scandal that has brought low some of the country's business and political elite.
In a dramatic fall from power, 65-year-old Park became South Korea's first democratically elected leader to be thrown out of office. She is accused of colluding with a friend, Choi Soon-sil, to pressure big businesses to contribute funds to foundations that backed her policy initiatives.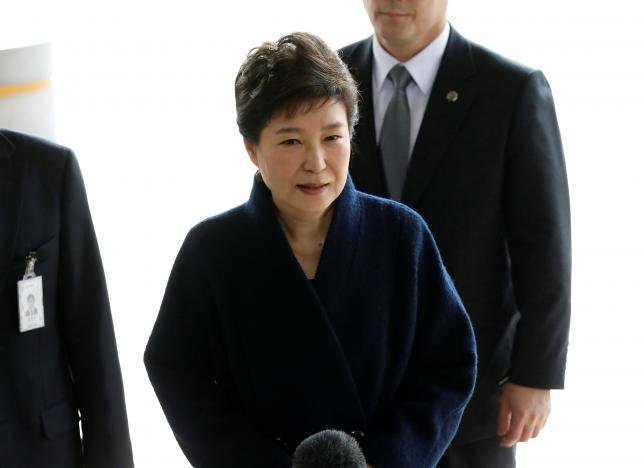 She and Choi, who is already in custody and on trial, deny any wrongdoing.
In the early hours of Friday, the Seoul Central District Court approved prosecutors' request for an arrest warrant for Park after she gave about eight hours of testimony.
Park and her lawyers had argued that she should not be arrested because she did not pose a flight risk and would not try to tamper with evidence. But the court disagreed, and said she might try to manipulate evidence.
Just before dawn, Park was driven to prison just outside Seoul in a black sedan, ashen-faced and flanked by two female officers in the back seat, her hair down apparently having removed the hairpins that held her hair in its usual classic chignon style.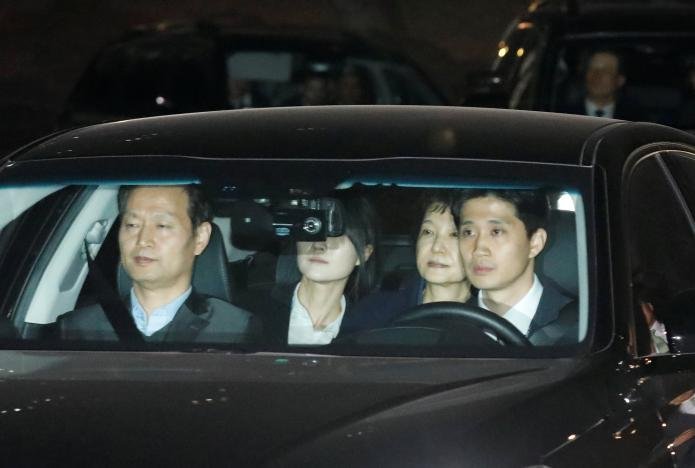 Prosecutors now have 20 days to build their case while Park remains in detention.
Park's removal from office capped months of paralysis and turmoil over the corruption scandal that also landed the head of the Samsung Group, South Korea's largest "chaebol", or family-run conglomerate, in detention and on trial.
The political upheaval comes at a time of rising tensions with North Korea over its weapons programme and with China, which is angry over South Korea's decision to host a U.S. anti-missile defence system.
Park's impeachment on March 10, which upheld a parliamentary vote in December, effectively left a political vacuum with only an interim president in place before a snap May 9 election.
Liberal opposition politician Moon Jae-in is leading in opinion polls and is expected to win that election.
"The arrest of the former president Park amounts to upholding the people's stern order to build a country where justice and common sense stand firm," Moon's spokesman, Park Kwang-on, said in a statement.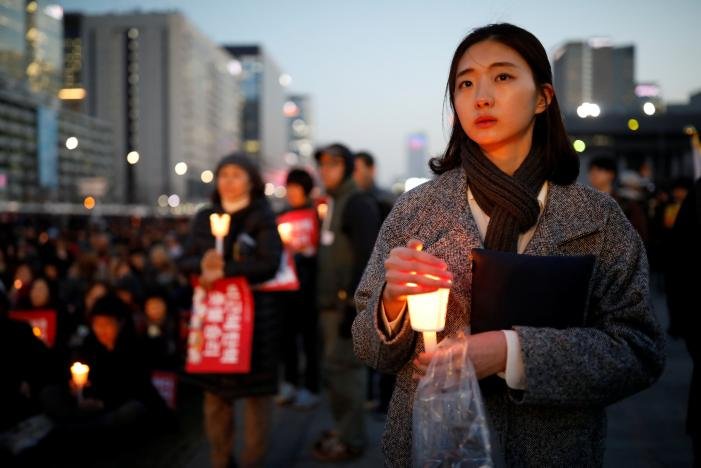 "It is the first step to rebuilding a collapsed Republic of Korea," Park Kwang-on said, using South Korea's official name.
Prosecutors said on Monday Park was accused of soliciting companies for money and infringing upon the freedom of corporate management in her position as president.
She could face more than 10 years in jail if convicted of receiving bribes from chaebol bosses, including Samsung Group chief Jay Y. Lee, in return for favours.
Lee, who denies charges that he provided bribes in return for favours for Samsung, is in detention in the same facility as Park and on trial separately.
After several preliminary hearings, Lee's trial will begin on April 7.
(Feature image source: Reuters)