Ahead of the Assembly elections in Uttar Pradesh, Prime Minister Narendra Modi addressed a crowd in Moradabad district on Saturday.
During the speech, PM Modi focussed on the issue of corruption and slammed all the black marketeers who are trying to deposit their money in Jan Dhan accounts. 
While addressing the crowd, he urged everyone to support the demonetisation move and said that there were difficult times initially but things have started to become normal.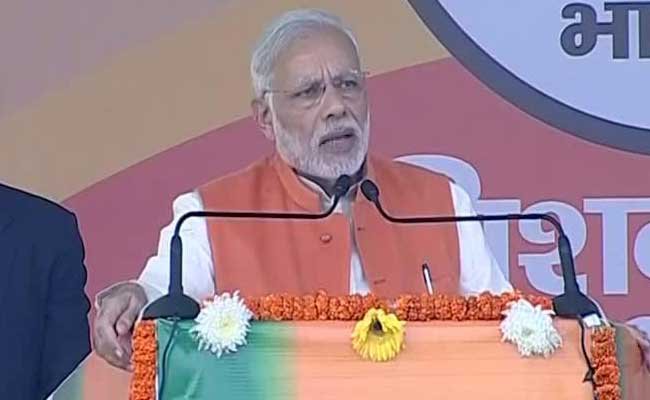 Here are the top 10 quotes:
1) Dishonest people can't go to banks now and so they are queuing up outside homes of poor and trying to mislead them.
2) Kya main bhrastachaar ke khilaf na ladhun, Iske khilaf ladai jurm hai kya? Kuch log kyon keh rahain ki Modi galat kar raha hai? (Shouldn't I fight corruption? Is fighting corruption a crime? Why are some people calling me a wrong doer for fighting corruption.)
3) Aajkal log kuch log poora din 'Modi, Modi, Modi' kar rahein hai, jo pehle bolte the 'money, money, money' (Those who were saying money, money, money they are now saying Modi, Modi, Modi)
4)Main aise logon ko jail main dalne ke rasste dhund raha hun jo apne kale dhan ko gareeb logon ke jandhan kahtey main dal rahe hain. (I am finding ways to put behind bars those guilty of stashing their black money into the jandhan accounts of the poor.)
5) Jyada se jyada kya kar lenge, arey hum toh fakeer aadmi hai, jhola leke nikal lenge. (What can my opponents do to me? I am a fakir (hermit). I will exit with my little belongings.)
6) Is desh mei 40 crore smartphones hai, kum se kum 40 crore log toh notes ke chakkar se nikal jayein; corruption khatm ho jayegi (There are 40 crore smartphones in the country, if at least 40 crore people go digital, corruption will end.)
7) I have not fought from Uttar Pradesh only to become a MP but wanted to initiate a fight against poverty from this huge state:
8) Aapka phone hi aapka wallet hai, aapko ATM se paise nikalne ki koi jarrorat nahi (You have a phone, then your phone is your wallet. You don't need to withdraw money from ATMs. You can buy what you want from the money in your account through your phones.)
9) For 70 years people queued up for essential items. This queue (outside banks) is the last queue to end all the queues.
10) I assure you people that I won't let your hard work, your sacrifice, your struggle go in vain.