Prime Minister Narendra Modi on Friday praised the "growing convergence" of views between India and Japan, saying strong ties will enable them to play a stabilising role in Asia.
Modi is in Japan to sign a landmark nuclear energy pact and strengthen ties as China's regional influence grows and Donald Trump's election has thrown U.S. policies across Asia into doubt.
India, Japan and the United States have been building security ties by holding three-way naval exercises, but Trump's "America First" campaign promise has stirred concern about a reduced U.S. engagement in the region – an approach that could draw Modi and Japanese counterpart Shinzo Abe closer.
Modi told Japanese business leaders that the 21st century is Asia's century, urging them to invest in India.
"The growing convergence of views between Japan and India and our special strategic and global partnership have the capacity to drive the regional economy and development, and stimulate global growth," he said.
"Strong India and strong Japan will not only enrich our two nations, it will also be a stabilising factor in Asia and the world."
The nuclear agreement, which Modi and Abe are set to sign later in the day, follows a similar one with the United States in 2008 which gave India access to nuclear technology after decades of isolation, a step seen as the first big move to build India into a regional counterweight to China.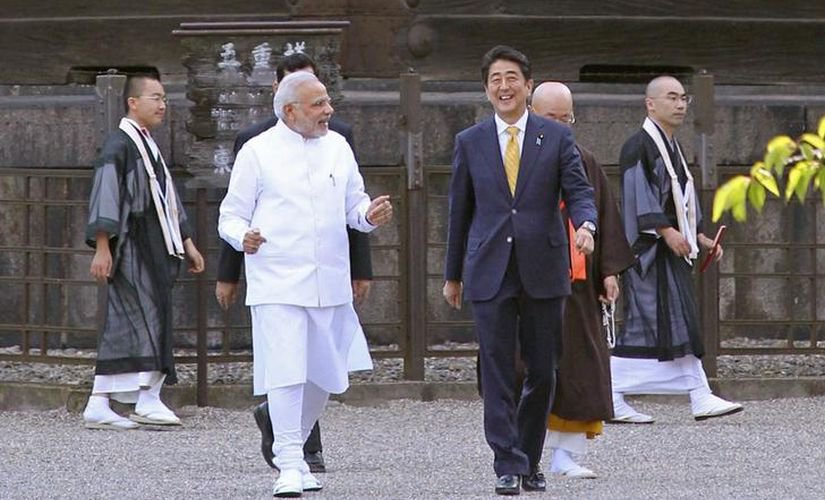 The Yomiuri newspaper said the main accord will likely be accompanied by a separate document stipulating that Japan, the only country to have suffered a nuclear attack, will suspend nuclear cooperation if India conducts a nuclear test. Initially, Japan wanted that inserted into the agreement itself, but India resisted, it said.
India has declared a moratorium on such testing since its last explosions in 1998.
The two countries have also been trying to close a deal on the supply of amphibious rescue aircraft US-2 to the Indian navy, which would be one of Japan's first sales of military equipment since Abe lifted a 50-year ban on arms exports.
India's Defence Acquisitions Council met earlier this week to consider the purchase of 12 of the planes made by ShinMaywa Industries, but failed to reach a decision.
(Feature image source: PTI)