New Delhi: At least 90 JNU students have been detained at New Delhi's Parliament Street police station after they tried to break the barricades put up by Delhi Police at Jantar Mantar to march towards Home Ministry at Raisina Hill on Friday. 
The university students had called for a march to Ministry of Home Affairs on Thursday to protest against its alleged insensitivity and lack of concern in efforts to find out missing JNU student Najeeb Ahmad.
A first year student of biotechnology, Ahmad has been missing since last Saturday after he had a brawl with some ABVP-affiliated students in the previous night at the university's Mahi-Mandvi Hostel. 
"We were heading towards the Home Ministry premises but police diverted us towards Jantar Mantar. The police also put up barricades and confined us at Jantar Mantar. Some of us tried to march break the barricades and move towards Home Minister's Office. But we were detained by police," a JNU student, told ScoopWhoop News from the premises of the police station.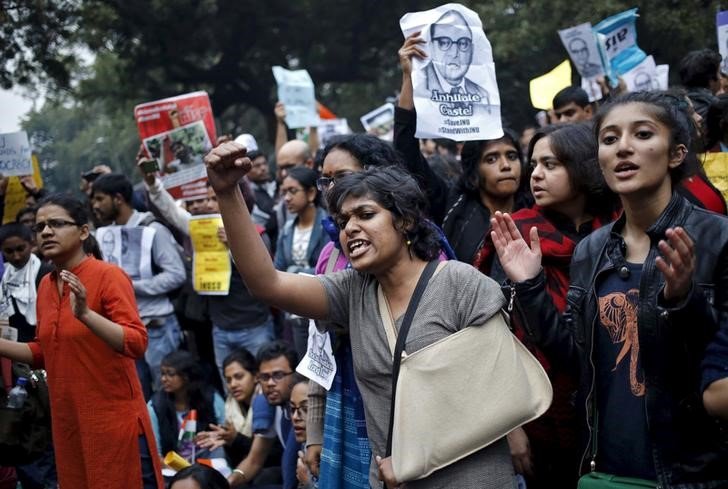 He also said a few hundred students are continuing their protest at Jantar Mantar.  
The detained students also include the office bearers of JNU Students Union including JNUSU President Mohit Pandey. 
Earlier in the day, security was beefed up in New Delhi district in anticipation of the protest march given by JNU students in front of the Home Ministry at Raisina Hill. 
Vehicular movement was also blocked on Raisina Road and police, and paramilitary forces were deployed at and around the area to prevent protesting students, a police official told PTI. 
On Thursday, Union Home Minister Rajnath Singh had ordered the Delhi Police to set up a special team to trace Ahmed. The Home Minister's direction came hours after the students allowed JNU VC and other officials to walk out of the university's administration building where they were "illegally" confined by students for nearly 20 hours. 
Feature image source: PTI/File