PM Modi's decision to get rid of the current Rs 500 and Rs 1,000 notes came as a shock to most people, including our politicians. 
Just a handful of them seemed to have been able to understand the ramifications of the PM's decision. And they were vocal about their opinions on Twitter.
Surprisingly, most leaders were silent. Perhaps, we'll have some stronger reactions tomorrow.
There was strong opposition by some netas.
I want to know from PM how my poorest brothers sisters,who've recd their week's hard earned wage in one 500 re note will buy ata,chal, tomo?

— Mamata Banerjee (@MamataOfficial) November 8, 2016
WITHDRAW THIS DRACONIAN DECISION

— Mamata Banerjee (@MamataOfficial) November 8, 2016
While Modi ji withdraws Rs 1000 note, he introduces Rs 2000 note on the other side? Does it not defeat his own argument?: @rssurjewala

— INC India (@INCIndia) November 8, 2016
Today's announcement neither addresses the major sources of black money abroad nor those invested in property, gold and such instruments.

— Sitaram Yechury (@SitaramYechury) November 8, 2016
because those with stacks of black money have 50 days and lots of imagination to 'adjust' it. Let's wait to see the results https://t.co/8M68Wo48P5

— Yogendra Yadav (@_YogendraYadav) November 8, 2016
Then there were those who praised PM Modi's bold decision. 
People of our nation would support &participate like true soldiers in this war against #blackmoney.This is a milestone in nation's progress.

— Devendra Fadnavis (@Dev_Fadnavis) November 8, 2016
#PresidentMukherjee welcomed bold step of Government of India which will help unearth unaccounted money & counterfeit currency

— President of India (@RashtrapatiBhvn) November 8, 2016
Some leaders seemed on the fence, so just retweeted other's viewpoints.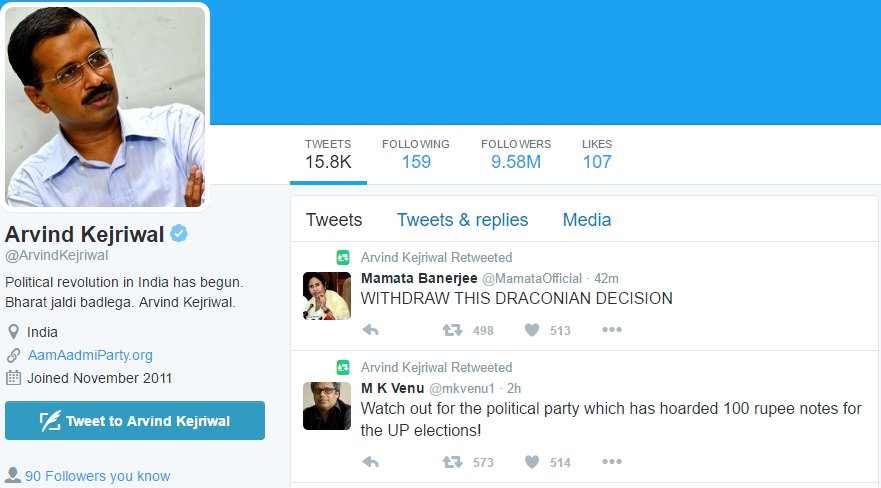 Suresh Prabhu was, as usual, ready with a helping hand.
Purchase of Railway ticket at railway station,

₹500 & ₹1000 note would be accepted till 11th Nov 2016 midnight— Suresh Prabhu (@sureshpprabhu) November 8, 2016