Last week, the discovery of a desecrated copy of the Guru Granth Sahib in a village in Faridkot, Punjab, created unrest in the district and later across the state. The unrest was followed by clashes between angry protesters and the police. Many were injured and two people died in police firing.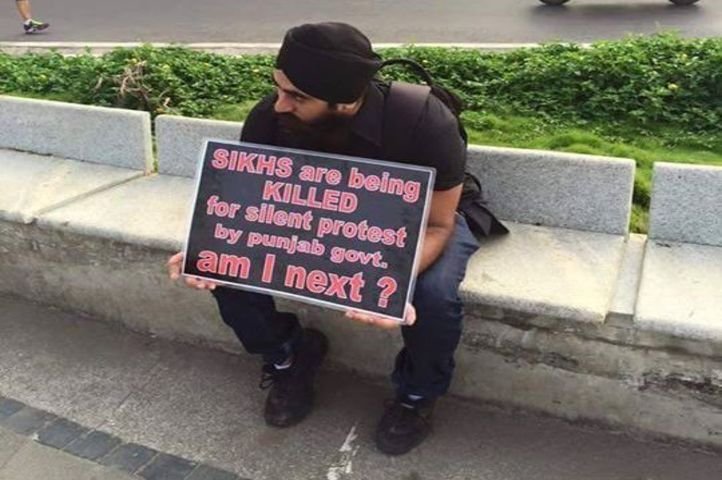 Source: Facebook
As allegations of more desecrations followed, the situation grew worse with forces trying to disturb communal harmony being held responsible. Protests were held across Punjab. Sikhs on Mumbai's Marine Drive expressed their displeasure at the acts that hurt religious sentiments.
News Alert: Sikhs protesting on Marine Drive, Mumbai against the Beadbi of Sri Guru Granth Sahib Ji and the Punjab Police killing of Sikh protesters.

Posted by Sikh Channel on Monday, October 19, 2015
Delhi Chief Minister also Arvind Kejriwal appealed to people to refrain from religious violence and blamed political forces for instigating communalism. One Congress MLA and three from the Akali Dal also resigned to express protest over the desecration.
Kejriwal condemned the desecrations and the violence that followed in a video:
Jagmeet Singh, from the educational charity Basics of Sikhi, attempted to protest about the lack of media coverage of violence against Sikhs in the Punjab. He had appeared on Sunday Morning Live to talk about inter-faith marriages in the UK but attempted to bring up the issue of recent violence in Punjab after the discussion on inter-faith marriages had come to a close.
The Punjab govt commits acts of violence against peaceful Sikh protesters & the Govt of India orders in the army. Retweet & raise awareness

— Jagmeet Singh (@jagmeetNDP) October 15, 2015
He stood up in front of the camera and interrupted presenter Sian Williams, who threatened to to eject the panellist live on-air, The Independent reported :
#SikhLivesMatter has also been doing the rounds on Twitter.
if you didn't know – two Sikhs were killed in cold blood by the Indian Government whilst having a PEACEFUL protest #SikhLivesMatter

— NEELAM GILL (@NeelamKG) October 16, 2015
Tweets from prominent personalities also started pouring in.
Can't rule out Badal's hidden hand behind the incidents in run up to the violence, firing on protestors & a crisis situation in Punjab (1/2)

— Capt.Amarinder Singh (@capt_amarinder) October 15, 2015
Spoke to CM Shri Prakash Singh Badal who apprised me of the prevailing situation in Punjab. Assured him of all possible help from the Centre

— Rajnath Singh (@BJPRajnathSingh) October 19, 2015
Hey, media! Remember how Gen.Dyer fired at unarmed protesters at Jalianwala Bagh? Guess what happened in Punjab last week? #WhySoQuiet

— VISHAL DADLANI (@VishalDadlani) October 18, 2015
As the situation in Punjab seems to be worsening day by day, it is of extreme importance that people recognise the motive of the actions which are a visible attempt to trigger violence.