After the assault and stripping of a Tanzanian woman in Bengaluru, three Nigerian nationals were allegedly assaulted in Hyderabad by a group of around 10 locals who also used "racist" comments.
However, the Hyderabad police dismissed it as a "minor brawl" between one Nigerian and a local youth. 
One of the trio, Orolabe Ibidola, said the incident had occurred last night in Hakimpet area when he was returning home from a religious place when some local youths allegedly passed "racist" comments against him. 
Ibidola, a degree student, claimed when he sought to know the reasons for their comments, the locals assaulted him.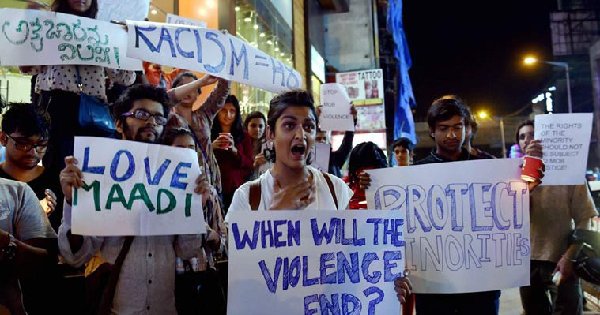 "After beating me up, the locals then beat up two other Nigerian youths," he claimed. He also said one of the attackers was carrying a knife.
 However, Banjara Hills Police Station Inspector P Murali Krishna said there was a "minor brawl" between a Nigerian and a local youth following arguments over a road accident.
 "We have registered a case under IPC Section 323 (voluntarily causing hurt) and 341 (wrongful restraint) against the local youth following a complaint by the Nigerian youth," he told PTI.
The Inspector said they have received a counter complaint from local residents against the Nigerian, alleging assault by the latter. A probe into the incident is on, Krishna said. After the incident, a group of Nigerians residing in the city held a protest outside the police station last night.