Rahul Gandhi begins his three day visit of his parliamentary constituency, Amethi, on May 18. This is the first time he has visited his constituency since his 59 day sabbatical. His visit is part of his ongoing attack of the BJP's attitude towards farmers, their current Land Acquisition Bill and the controversial "food park" issue.
BJP's HRD Minister Smriti Irani pre-empted Gandhi's visit by landing in Amethi last week and attacking the Congress vice president.
According to her, Gandhi's team announced their visit only after she made plans to go to Amethi. She stated, " I am glad, at least, Rahul is following my footsteps, the people of Amethi will get to see him".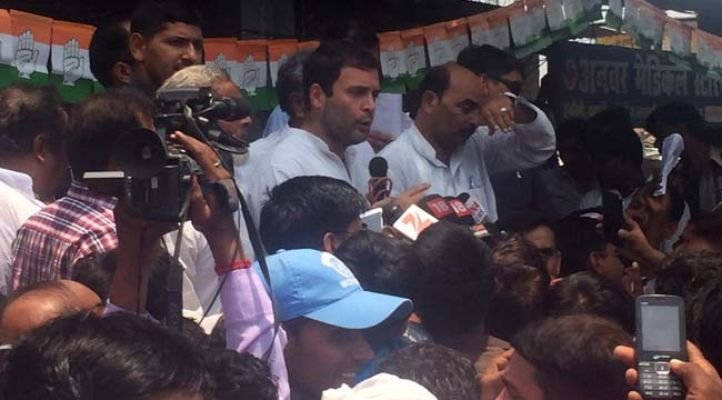 Rahul Gandhi has taken on the Narendra Modi government over the scrapping of the food park, which was sanctioned by the previous Congress-led UPA government.
During his visit to Amethi, Gandhi plans on going to the villages and meeting farmers that have lost their crop due to untimely rains and hailstorms. This is his third such visit since his return. He has previously visited farmers in Vidarbha, Maharashtra and Telengana, the worst hit areas facing agrarian crisis.
" The PM travels the world, but has not visited the home of even one farmer who committed suicide," Rahul Gandhi said in Amethi on May 18, according to NDTV .
About the food park that was to be built in Amethi, Rahul said, " It would have benefited many people, but the Modi government snatched it away. Not from me, but from farmers, workers, the weak".
Rahul Gandhi 2.0
Rahul Gandhi is suited, booted and ready to take on his rivals. It has taken a 56 inch challenge, a 44-seat shock and a 59 day leave to knock a Rahul 2.0 out of him. But how long will 2.0 last, is the question on everyone's mind.
Will he continue with this momentum all the way through to the next Parliament session, or will it fizzle away as it has in the past?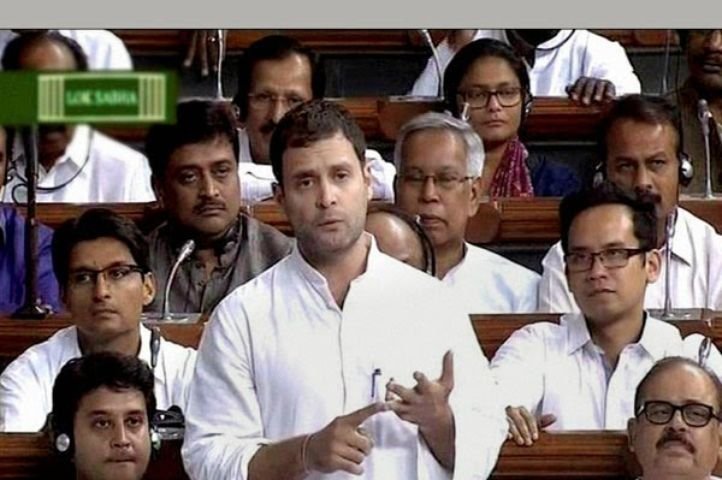 " Whatever has happened in those 56 or 59 days has transformed him. He is a rejuvenated human being. He has come back with a vengeance," says Rajya Sabha MP Jairam Ramesh, whom Rahul consults for policy inputs, Indian Express reports.
" I found him with a new energy. You can see a shining face, you can see it in the body language. There was no dearth of ideas earlier also. But there is a difference now," said general secretary Madhusudan Mistry.
Even his own party has been taken by surprise at the newfound rigour of their reluctant crown prince. However, there are leaders who are concerned that he is still only talking about the few issues that pique his interests. While his interests lie in the right places – farmer welfare and uplifting the poor – there are other pressing matters he needs to tend to. For instance reorganising the party.
If he wants to succeed and lead his party through the next election, he needs to take on the responsibilities allotted to him. He needs to take the final plunge and become Congress President.
An outsider looking in
Ever since Rahul Gandhi joined politics in 2004, he has tried to build the image of a political crusader, even that of an outsider disgusted with the system. For this he has been criticised and ridiculed.
They know his power so First they ignored him Now they laugh on him Next they'll fight him Then he'll win #WithRG

— Harshad Sharma (@NSUIHarshad) May 18, 2015
Much of his activism politics had brought him into conflict with his own government. Few saw his acts of defiance as nothing more than the petulance of an entitled heir.
For instance, his tearing of an ordinance that would have undone the Supreme Court judgement on disqualification of convicted lawmakers.
" This has been his style. Earlier we were in government, he could not say many things he wanted to say, did not do many things he wanted to do. Can you recall a single instance when he has said there was no corruption in the 2G spectrum case or in the organisation of the Commonwealth Games?" says a close aide of his.
What most leaders agree on is that it is time for Rahul to take on the leadership role. The once in five year Congress internal elections are imminent and it is likely that he will take this route to become Congress chief. After which it is highly likely that the reorganisation of the party will begin. With a Rahul 2.0 there may come a Congress 2.0.
Feature image source: Indian Express