Twenty-seven years after the then Rajiv Gandhi government banned Salman Rushdie's controversial novel The Satanic Verses, former finance minister P Chidambaram on Saturday said it was "wrong."
"I have no hesitation in saying that the ban on Salman Rushdie's book was wrong," Chidambaram said speaking at the Times LitFest in Delhi.
Rushdie reacted sharply to the former union minister's statement. "This admission just took 27 years. How many before the 'mistake' is corrected?," Rushdie said in a tweet.
The reactions on Twitter to the 'confession' ranged from relief to outrage:
When I ask @PChidambaram_IN why it took so long to admit ban on Satanic Verses was wrong, he says no one asked me for 20 years!

— Rajdeep Sardesai (@sardesairajdeep) November 28, 2015
@AMadumoole Satanic Verses has no literary merit in it whatsoever. The ban only helped in furthering publicity.

— Rosen John (@nesoron) November 29, 2015
After Chiddu admits banning of Satanic Verses as wrong, in desperation Congress may even admit making Nehru as 1st PM was also a mistake.

— We The Raita (@MixedRaita) November 29, 2015
The ban on Satanic Verses should be lifted. Let us readers decide whether the book is good or bad.

— Dipankar. (@deep_anchor) November 29, 2015
"Satanic Verses" why this Satan comes alive again and again. Time to give it a proper funeral !

— ProfCalculus (@info97040296) November 29, 2015
The ban on Satanic Verses in 1988 was followed by a fatwa (decree) by Iran's religious leader Ayatollah Khomenini. In 2012, the author had to pull out from the Jaipur Literature Festival citing threats by some Muslim groups.
Defending Chidambaram, Congress leader Manish Tewari on Sunday said his senior party colleague was "correct". "If at all he has acknowledged what had happened 27 years ago was wrong, it should be welcomed in the spirit in which it was said," he said. "We need to liberate ourselves from entire culture of proscribing books, periodical social media, and films," Tewari added, ANI reported .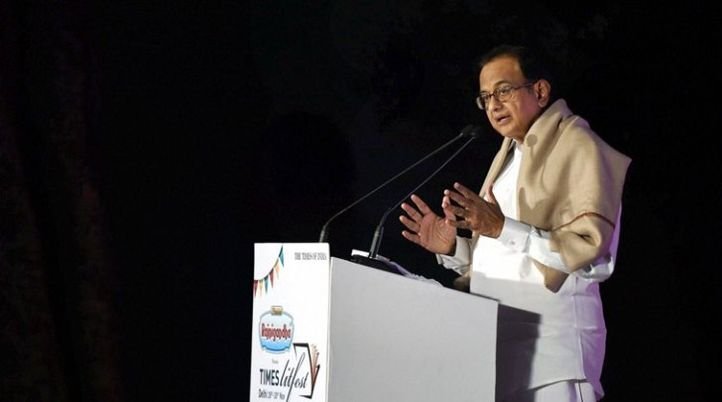 P Chidambaram addressing during the Times Lit fest in New Delhi on Saturday | Source: PTI
Chidambaram, who was a Minister of State for Home Affairs under Rajiv Gandhi government from 1986-89, also said Indira Gandhi had in 1980 admitted imposing Emergency was a mistake. "Indira Gandhi herself admitted in 1980 that the Emergency was wrong and, if elected to power, she would never impose the Emergency. People believed her and elected her to power again," he said. "If you had asked me 20 years ago, I would have told you the same thing," he said when asked why it took him so many years to reach such a conclusion.
Speaking on the issue of 'intolerance' in the country, he said," It is on the rise" and expressed hope that "this moral majoritarianism" will fail comprehensively. He noted the "increasing tide of illiberalism and intolerance is frightening. "Illiberal zealots believe that the State is on their side. Illiberal zealots also believe that if they gather sufficient number they will be the State and their word will be the law," he said. "Moral majoritarianism will fail but each one of believes in democracy and liberalism must speak up and ensure that moral majoritarianism will fail comprehensively," he added.
He also said those who believe in democracy and liberalism must stand up and protest.