A controversy erupted on Thursday over Narendra Modi's photo appearing on the diary and the calendar of Khadi and Village Industries Corporation (KVIC), with Congress and some others targeting the Prime Minister, whose office termed the row as "unnecessary". A section of KVIC has protested the exclusion of Mahatma Gandhi's photo from the diary and the calendar even though they have no objection to Modi's picture appearing in these.
The Prime Minister 's Office (PMO) said the controversy was "unnecessary" as "there is no rule in KVIC that it's diary and calendar should have only Gandhiji's photo."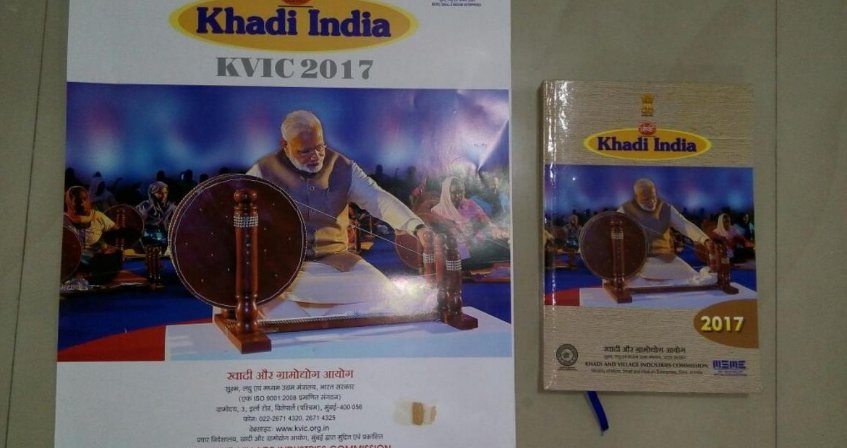 PMO sources said in the past also, there was no picture of Mahatma Gandhi on such KVIC material.
"In the calendars and diaries of 1996, 2002, 2005, 2011, 2012, 2013, 2016, there was no picture of Gandhi. So there is no question of Modi replacing Gandhiji's picture," the sources said.
"Those stoking the controversy over the issue should realize that during Congress rule of 50 years, the sale of khadi remained restricted to 2 per cent to 7 per cent but in last two years, the sale has seen an unprecedented jump of 34 per cent. This is because of PM's efforts to popularise khadi," they added.
The PMO said "Modi is an icon of the youth and the growing popularity of khadi in the world is testimony to this."
The PMO said the KVIC diary and calendar has photographs of Modi distributing charkha among poor women, they said.
This is how few of his political rivals had reacted to the news 
"The Mangalayaan effect," Congress vice president Rahul Gandhi tweeted, implying that Modi was trying to take credit for promotion of KVIC like he had allegedly done after India's spacecraft Mangalayaan landed on the Mars. 
Congress chief spokesperson Randeep Surjewala said, "Khadi & Gandhiji are symbols of our history, self-reliance & struggle. Removing Gandhiji's photo is a sacrilegious sin."
West Bengal Chief Minister Mamata Banerjee said, "The great symbol of 'charka' (wheel) and Mahatma Gandhi now gets replaced by Modi babu. In the calendar and diary of Khadi (KVIC) 2017, Modi replaced Mahatma Gandhiji. Gandhiji is the Father of the Nation. Modiji what???"
In the calendar and diary of Khadi (KVIC) 2017 Modi replaced Mahatma Gandhi ji. Gandhiji is the Father of the Nation. Modi ji what??? 2/2

— Mamata Banerjee (@MamataOfficial) January 13, 2017
The great symbol of charka and Mahatma Gandhi now gets replaced by Modi babu 1/2

— Mamata Banerjee (@MamataOfficial) January 13, 2017
xx