To say that Punjab is besotted by foreign shores is an understatement. A study on the phenomenon in 2015 found that such is the obsession with migrating abroad that of the 133 villages he visited across the state, there was only one (Malwa) where families did not have relatives living abroad. 
The trend has inspired jokes such as this one on "Punjab Airways"
This might explain why all the political parties in the state aggressively campaign in countries with huge Punjabi populations like US, UK, Canada and Australia. They hope that the NRIs can influence elections back home.
But what no party had done so far was promise to help Punjabis leave the country. The ruling Shiromani Akali Dal's (SAD) has changed that. The party in its manifesto has promised that if it comes to power, it'll buy land abroad so Punjabis can work and settle down there. 
As per a Times of India report, the manifesto says that SAD will buy 1 lakh acres of land in US, Canada and other countries and give this to state's farmers so they can run farmer settlements. The party says it'll also help farmers and other citizens of Punjab to secure permanent resident status in those countries.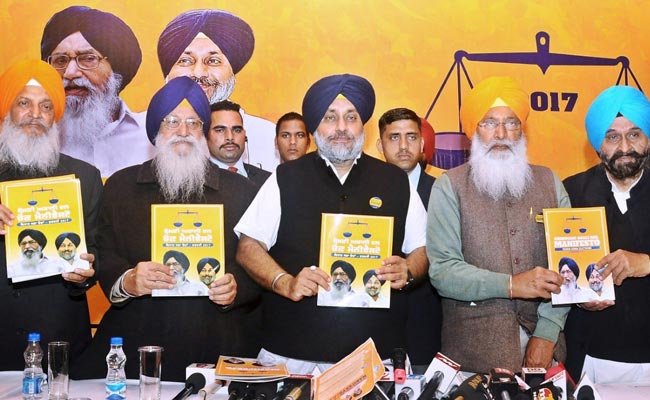 Now, as laughable as it may sound, the sheer number of Punjabis ready to give up everything to settle abroad makes this promise a lucrative one. 
The 2015 study, jointly carried out by the Centre for Research on Rural and Industrial Development in Chandigarh and Institut National d'Études Démographiques of Paris, found that 11 percent of all the households in Punjab have at least one current international out-migrant. 
Their country of choice? UAE, Canada, Italy, US, Australia and UK, in that order.
Opposition parties have slammed the move. Congress's spokesperson Shakeel Ahmad called it "utopian and unfortunate". AAP's Sanjay Singh took a dig at the party saying it is an admission that they have destroyed Punjab fully and do not consider it worth living in.