The Supreme Court on Friday refused to extend parole for conglomerate Sahara's founder Subrata Roy and ordered he be kept in custody until Oct. 3, when the court will resume hearings in the case between the firm and the country's markets regulator.
Roy was arrested in March 2014 after Sahara, a household name in India, failed to comply with a court order to refund 360 billion rupees ($5.4 billion) raised from millions of small investors by selling them bonds later ruled to be illegal.
In May the court granted Roy parole for two months, later extending it until Friday.
Embattled Sahara has been trying to raise funds since Roy's arrest by selling real estate assets but has failed in several past bids. Sahara has also previously said it had repaid 95 percent of its liability, a claim which has not been accepted by the court.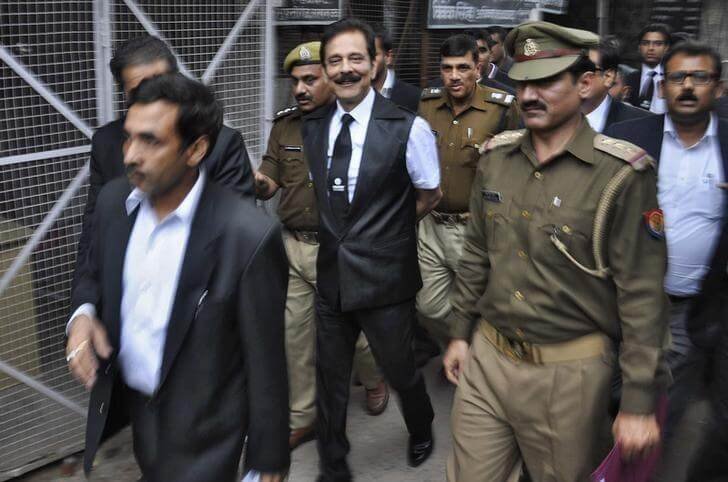 Sahara, the former main sponsor of India's national cricket team, has some prized assets, including New York's Plaza Hotel, the Grosvenor House in London, Sahara Star hotel in Mumbai and a stake in a Formula One racing team.
In March, the court asked the national markets regulator, the Securities and Exchange Board of India (SEBI), to submit a plan for selling Sahara's 86 properties in the country excluding its overseas assets, Sahara Star hotel in Mumbai and Aamby Valley luxury resort in the hills of western India.
The decision to not grant a further extension was made after SEBI told the court it was unable to raise money from the Sahara properties as they had been requisitioned by the income tax department against unpaid dues.
SEBI on Friday also made an application in court to appoint a receiver to handle Sahara's properties.
(Feature image source: Twitter)