As Nitish Kumar took oath as Chief Minister of Bihar in a grand swearing-in ceremony on Friday, there was one major leader absentee among a crowd of political heavyweights attending the event.
Mulayam Singh Yadav's absence at the ceremony might have raised eyebrows, but his grand birthday celebrations seem more like an extravaganza in itself to showcase the power of the Janata Parivar veteran .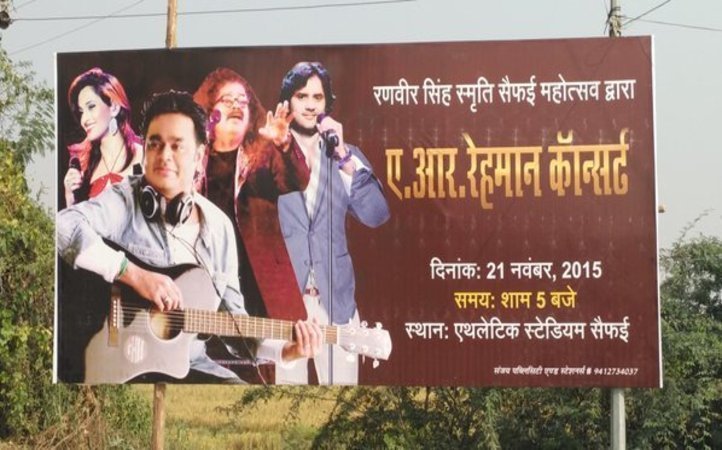 As artists like AR Rahman and Harshdeep Kaur are set to take the stage in Mulayam's western UP hometown , celebrities such as Salman Khan and Amitabh Bachhan are expected to be present.
The three-day bash got off to a colourful start on Saturday at Saifai, around 200km from state capital Lucknow:
Source: PTI
Supporters shower flowers on SP chief Mulayam Singh Yadav as he arrives at a programme to celebrate his 77th birthday in Safai on Saturday | Source: PTI
Village women wait to welcome SP chief Mulayam Singh Yadav on his 77th birthday in Safai on Saturday | Source: PTI
Birthday wishes to Mulayam Singh Yadav ji. I pray for his long life & great health.

— Narendra Modi (@narendramodi) November 22, 2015
However, Rashtriya Janata Dal (RJD) chief Lalu Yadav was not present during the event.
If you thought that Mulayam's 75th birthday celebrations last year, with a 75 feet cake and a Rs 70 lakh buggy, were over the top, the extravagant event on Saturday night might just leave you stunned.
As Twitter was abuzz with support and criticism, Azam Khan is once again at the helm of affairs, although 50 drought hit districts in Uttar Pradesh seem to bear the brunt of the madness .
As invites have been sent to the likes of Anil Ambani and Adi Godrej, Janata Parivar heavyweights like Sharad Yadav will be among the political commotion at the event.
Mulayam Ji ne Mughal badshahon ki yaad taaza kar di,,1 lac guests,15 Bollywood celebs,wah re tumhara samajwad,SHAME on you #saifai

— intolerant yayaati (@SharmaYayaati) November 21, 2015
These shameless Samajwadi vultures can spend crores on a ch**tiya like Mulayam. In the same state 50 districts are declared drought. #saifai

— Himanshu #Intolerant (@himanshuforever) November 21, 2015
While the celebrations seem to be getting more eye-catching and expensive every year, the scale on which the event is planned and funded could have benefited the administration of the state to a large extent.