If you had been watching Sony's broadcast for Euro 2016, you would know by know — as Virat Kohli and Luis Figo have been telling us — that Premier Futsal is kicking off on 15 July, 2016 in Chennai.
As big as these names are, there is only so much they can convince a viewer to watch the latest franchise league in the country. But the real buzz around the tournament has been generated over the last couple of days, as the league have stunned football fans in India by announcing the signings of some real superstars.
Paul Scholes. Manchester United legend.
Ryan Giggs. A bigger Manchester United legend.
Hernan Crespo. Serial winner in Italy and England (with Chelsea)
Ronaldinho Gaucho! The man who needs no introduction to football fans.
Rumo a índia!😃 🇮🇳 pic.twitter.com/F9JzlRRBoF

— Ronaldinho Gaúcho (@10Ronaldinho) July 12, 2016
The six-team league recently confirmed the lineup of marquee players for the franchises with former Real Madrid man Michel Salgado and Futsal legend Falcao (not *that* Falcao) completing the list.
Who are you supporting?

Chennai – FalcaoMumbai – GiggsKolkata – CrespoGoa – RonaldinhoBengaluru – ScholesKochi – Salgado#PremierFutsal

— Premier Futsal (@PremierFutsalHQ) July 12, 2016
And on Thursday, amid a horde of scribes and waiting photographers, two-time FIFA Ballon d'Or winner Ronaldinho arrived in Chennai to grace the inaugural edition of Premier Futsal tournament.
The 36-year-old Brazilian great will represent Goa 5's as the franchise's marquee player.
Sporting a casual t-shirt, shorts and studs, the former Barcelona and AC Milan star was swamped by the waiting media as he stepped out of the international airport late last night.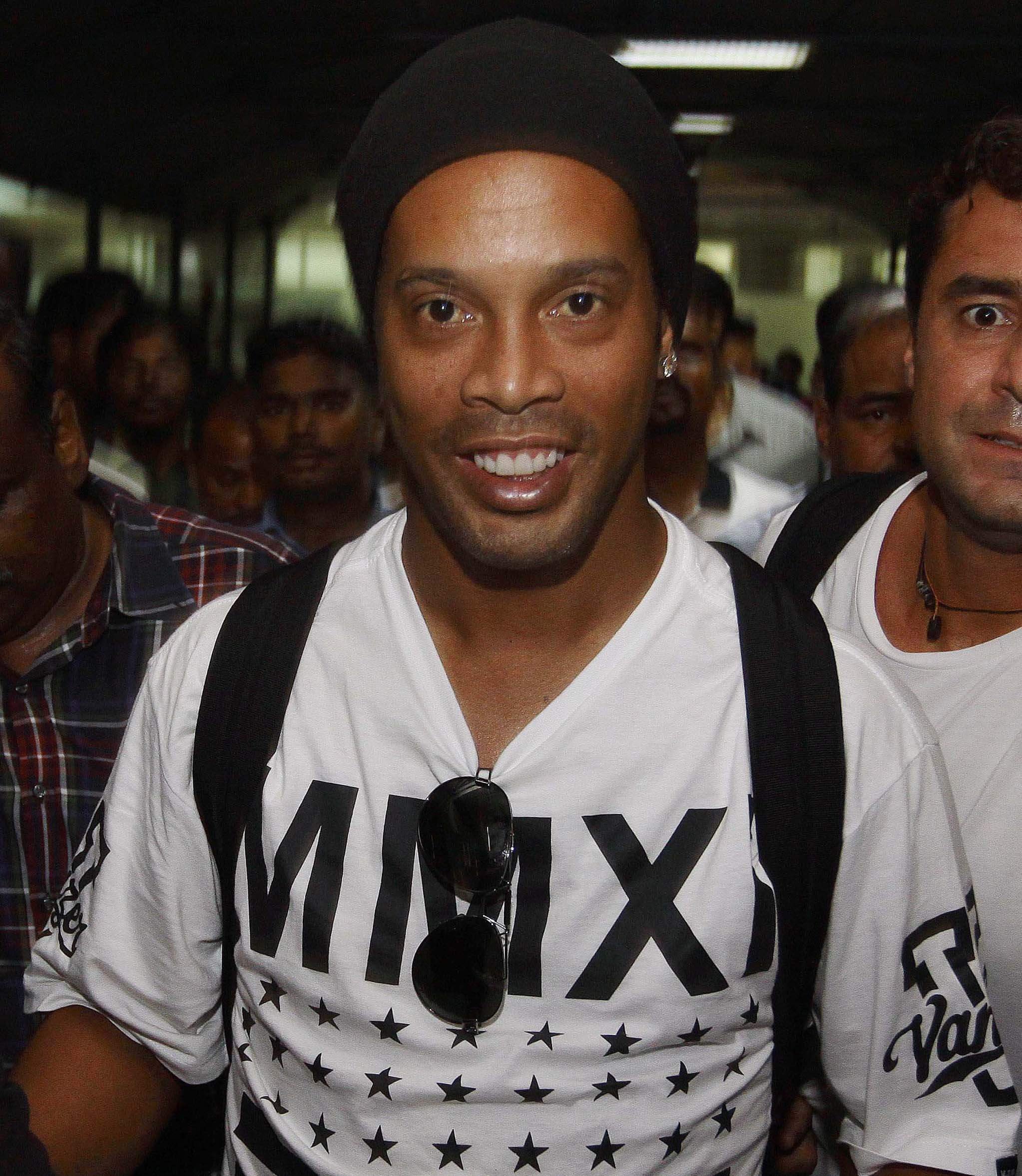 The 2002 World Cup winner looked calm as he obliged the lensmen by posing for photographs, even as the bouncers and police jostled around, reports PTI.
The organisers had arranged for a Rolls Royce to pick up the legendary footballer with league CEO, Abhinandan Balasubraminian present to receive the player.
Chennai International Airport was the place of attention as other renowned footballers Paul Scholes, Ryan Giggs and Hernan Crespo all arrived one by one.
Premier Futsal, a franchise-based international (a form of football being played indoors on a smaller field with five players in a side for 40-minute duration) tournament and promoted by an entity formed by Indian entrepreneurs, has attracted some of the world's well known former football stars.
On the flip side, the Futsal league has run foul of India's national football body, AIFF, which runs the Indian Super League and has advised domestic players to keep away from the event.
Futsal organisers insist it is a private league and does not require any authorisation. 
The inaugural season kicks off in Chennai on 15 July and move to Goa on July 18. The final will take place in Goa on July 24.
With AFP and PTI inputs (Featured image: AFP)