Smriti Irani is not new to being trolled online. As any other woman in a position of power, she's been mocked and questioned online long enough for it to not be called news anymore. But, recently, after being trolled yet again for one of her tweets, Irani had had enough.
It started with Bihar's education minister Ashok Choudhary asking her a question on Twitter, and calling her 'dear.'
And was trolled almost immediately.
This time, she didn't keep quiet, and wrote a long and powerful post on Facebook about women being asked to shut up about this kind of stuff since time immemorial.
"As the politician mumbled apologies and explained his "position" regarding the twitter spat to my state leader on the mobile while our contingent drove back from Bhagalpur last night; I watched his supporters trend a hashtag in my name, irrespective of their neta's public apology. As those who scream murder and whip themselves up into a feminist frenzy at the drop of a hat tried to "endear" themselves to me on Twitter, I reflected on the near "Jerry Maguire" like moment that was upon me.
Growing up in a middle class environment (Lutyen's zone excluded), many girls who would walk to school / college and back home every day, go to the bazaar to get groceries and adequate sabzi in a given budget, would often be told if accosted by a boy or a bunch of them, don't look up and keep walking straight. Don't respond or retort no matter how humiliated you feel. But there would be those rebellious kinds (yours truly included), who would question why? Why not respond? Why zip it? The standard answer such a question begets is "It is not worth it. Nuksaan tumhara hoga, ladke ka kuch nahi bigadega".
Cut to- you grow up and become a TV star. But while you still struggle to make a mark you are advised that if you go to parties and mingle enough, you shall get work. You stoutly refuse as you believe that your talent and hardwork are the only precursors to success, how full your social calender is should not matter. You are scoffed at and brushed off as naive. But lo and behold, you do succeed. You bag all the awards that matter, TRPs soar through the roof and all the naysayers grudgingly accept that you have arrived (though they do take occasional pot shots as their work profile demands).
And then politics happens. Not when you are a fading star, not when you are unemployed but when you are at the peak of your success. You are given the hard battles to fight, you accept (Chandini Chowk & Amethi were no cakewalk my friends). You work from the grassroots up. Serve as Youth Wing Vice-President in State, become State Secretary, 5 times National Executive Member, 2 times National Secretary and once the National President of Women's Wing. You become possibly the youngest ever woman to be nominated to the Rajya Sabha, speak on issues ranging from the budget to women's security. You represent your Nation in the International Parliamentary Union, get unanimously elected to represent the Asia Pacific region,become part of the drafting committee on the Syrian crisis and yet some "intellectual" says "anpad" the minute you are given the opportunity to serve as HRD Minister.
And suddenly the rules change. You, the creature who on every podium exalts the right of women to speak their mind is told don't speak your mind. Ignore the trolls no matter how high they serve in their political systems. Ignore public attempts to humiliate you through sexual innuendos "kyunki nuksaan tumhara hoga unka kuch nahi bigadega".
Ask any working woman, what do you do when your colleague does not finish their assignment on time brushes off your attempt at ensuring accountability and if push comes to shove is cocky enough to gang up with other boys in the club to paint you as either too wound up, to dumb or not competent enough; the successful women always tell you that they continue to crack the whip. For there will come a time when the colleague says "Fine! I'll get the work done".
So while many working women battle this challenge in confined working spaces, I spat it out on twitter for my office travels with me. But then there are some who say why talk about yourself at all, surely one day they shall realise the amount of work you have done. To them is dedicated the following checklist which is otherwise drowned in the noise:
• Over 4 lakh 17 thousand school toilets made in one year – check
• First time ever all NCERT school text books from classes 1 to 12 available free online – ePathshala- check
• First time ever all Kendriya Vidyalayas are providing SMS to alert parents of student attendance and lesson details- Shala Darpan- check
• First time ever benchmarking of student performances in CBSE schools-Saraansh- check
• First time ever, school evaluation system focused on learning outcomes-Shaala Siddhi- Check
• First time ever, a mentoring and scholarship program to send our girls to technical institutes- UDAAN- check
• First time ever, all teachers trained in inclusive education to facilitate students with special needs- check
• First time ever, 10,000 undegraduate scholarships and exposure visits for students from the Northeastunder Ishan Uday and Ishan Vikas- check
• First time ever, focused interventions to improve Math and Science levels- Rashtriya Avishkar Abhiyan- check
• First time ever, focused interventions to improve reading and writing levels- Padhe Bharat Badhe Bharat- check
• First time ever, the UGC Prevention, Prohibition and Redressal of Sexual Harassment of Women Employees and Students in HEIs to protect women employees and students- check
• First time ever, a portal dedicated to Indian languages- Bharatvani-check
• First time ever, collaborated effort to focus research on the development goal posts of the country- IMPRINT- check
• First time ever, SAARC Declaration on Education– check
• First time ever, Aryabhata's bust installed at UNESCO headquarters to acknowledge India's contribution in mathematics and astronomy-check
• First time ever,IIT fee waivers for economically weaker sections- check
• First time ever, collaborations with Standford, University of Pennsylvania and MIT to strengthen HEIs in India- check
• First time ever, focused effort to bring high quality international faculty to teach in India through GIAN – check
• First time ever, a credit framework to pursue formal education and vocational training- SAMVAY- check
• First time ever, a national institutional rankings framework- check
• First time ever, a grassroots based consultation on developing a national policy, including over 2 lakh village education committees-check..
…. and the list goes on…
So to those girls walking with their heads down, look up and speak up; those women cracking the whip in their offices and asking their counterparts to finish the work assigned in the time frame prescribed, lead on. As for me, next time you blog – remember the sagely advice given when you joined politics, till you don't have your own coterie of journalists, don't expect support to come pouring in through editorials "kyunki nuksaan tumhara hoga unka kuch nahi bigdega"
Regards,
Aunty National
Via Smriti Irani's Facebook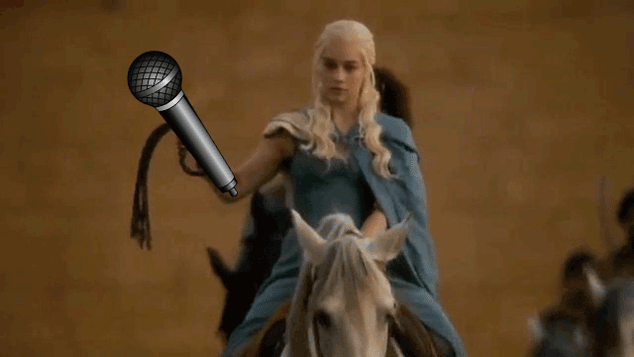 Feature image source