The issue of body-shaming has been coming up pretty often recently, and while it usually focuses on the more heavyset of people, it actually encompasses all kinds of figures, skinny or heavy. A lot of famous Bollywood faces have also started to call people out on their derogatory and scornful remarks, especially on social media.
Recently, Sonam Kapoor tweeted a very appropriate retort to people making fun of those with a body type different to the socially recognised 'normal'.
Fat shaming or skinny shaming.. It's still body shaming!

— Sonam Kapoor (@sonamakapoor) March 9, 2016
And Anushka Sharma soon followed with a supportive tweet of her own, demonstrating a changing and progressive mindset in the new age of Bollywood.
It's very reassuring to know that people are taking issues like these seriously, as body-shaming can have pretty adverse effects on people who don't fit society's standards of beauty. This exchange was followed by a few other kind words that once again, celebrated beauty in all its forms!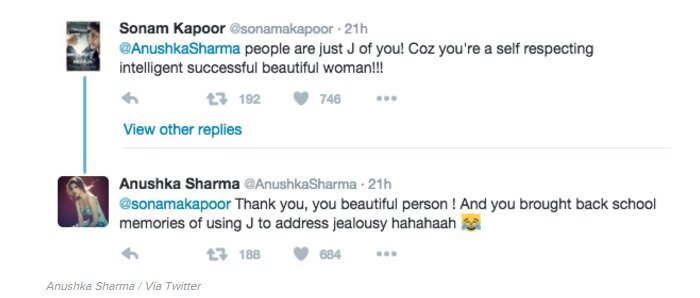 Source: Twitter
These stars are bringing out the fact that it's not just an immature thing to do, but also wrong and hurtful, and we're glad.