Not so long ago, a doctor at AIIMS committed suicide because of constant mental torture by her gay husband. Every day, overbearing parents force children to marry people who are not right for them, only to continue their family lineage or as a prosperous alliance between two families.
One such case has been unearthed by DNA. Former BCCI chief N Srinivasan has allegedly been forcing his son to marry a woman to continue the family lineage, all the while knowing that his son is gay.
On May 21 2012, DNA published a report highlighting how Srinivasan unleashed a cycle of violence against his son, Ashwin and his partner Avi Mukherjee.
Ashwin told DNA that he and his partner have been sent to Chennai and are being held captive there. This happened after he spoke of his brother-in-law's alleged connections with bookies in Chennai and Dubai. They are being held in the Boat Club neighbourhood near his father's residence.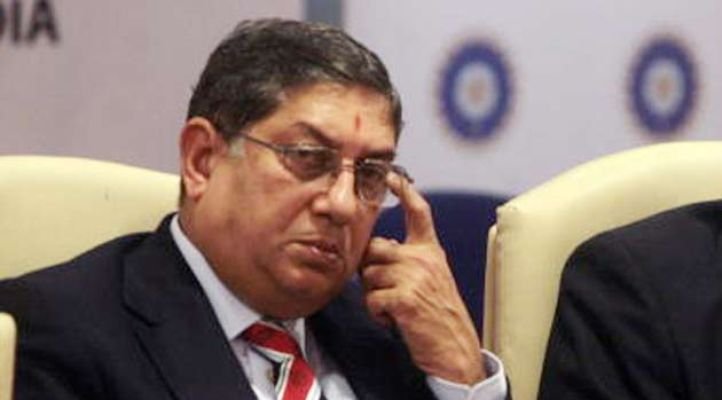 N Srinivasan | Source: IBN Live
"I want my father to give me my share of the family property and let me live my life like I want with my partner Avi," he told DNA and added, "We're being held captive against our will and tortured by my father who wants me to break up with Avi, get married and have children to further the family line."
As proof Ashwin offered a series of handwritten letters written by Srinivasan over a few years. "In his own handwriting you can see how he sees my homosexuality and partner as an aberration. He has had the benefit of a foreign education and exposure because of being well-travelled. Yet, he continues to harbour such thoughts about same-sex relationships."
The letters – all written on Srinivasan's personal stationary – between 2007 and 2008 bring up some of the points Ashwin mentions.
In one of the letters Srinivasan writes, "Ash, you are my only son. Both your mother and I love you very much. You are aware of the hope I had for you," and advises, "I feel you need to do certain things to help yourself", before going on to explicitly state, "I have saved money through my own hard work."
He points out that his wealth is self-earned. "I would like it go to my flesh and blood – I want a lineage to carry on the business. I can't give it to strangers. Therefore I think it will be good idea for you to marry a girl acceptable to us which probably might enable creation of a lineage."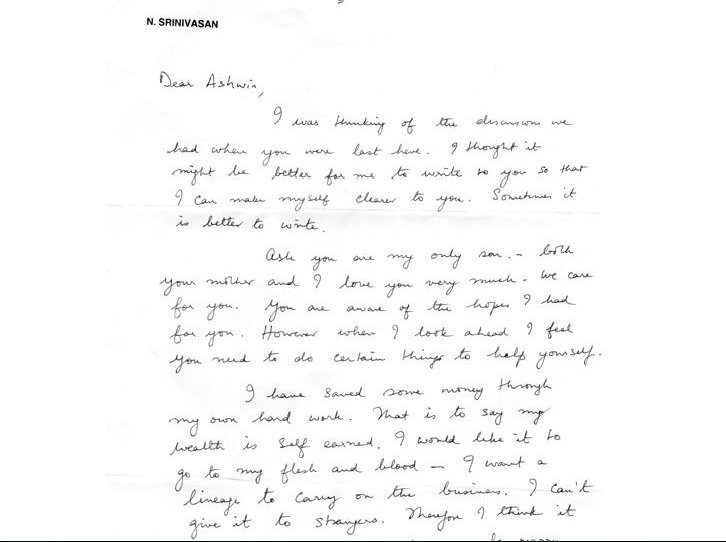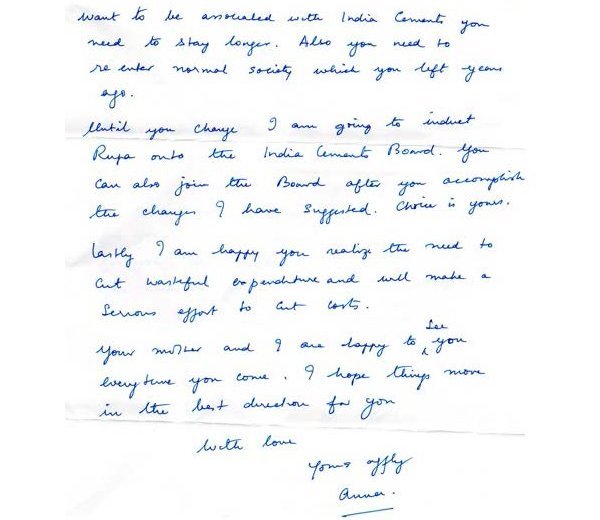 He wants Ashwin to give up the lifestyle he is currently living if he wants to have anything to do with India Cements. Srinivasan claims Ashwin needs to re-enter 'normal society' before he can offer him a place on the board. Until then, the position will be going to his daughter Rupa.
In another letter Srinivasan comments on Ashwin's frivolous spending and suggests he gets a grip on his expenses.
However, Ashwin was not swayed by his father's requests. He wrote back to Srinivasan thwarting his efforts to smooth things over. Deeply stung by this betrayal, the father wrote a heated letter to Ashwin, targeting Avi Mukherjee.
"I am in receipt of your letter talking of vague and unconnected events at different times in your private life. I see you are using all this to threaten me and extortion is clearly visible. I can see desperation – without your knowledge your letter exposes the true character of your 'friend' (Avi) as a criminal who breaks the law, indulges in drugs, etc. – all criminal activities."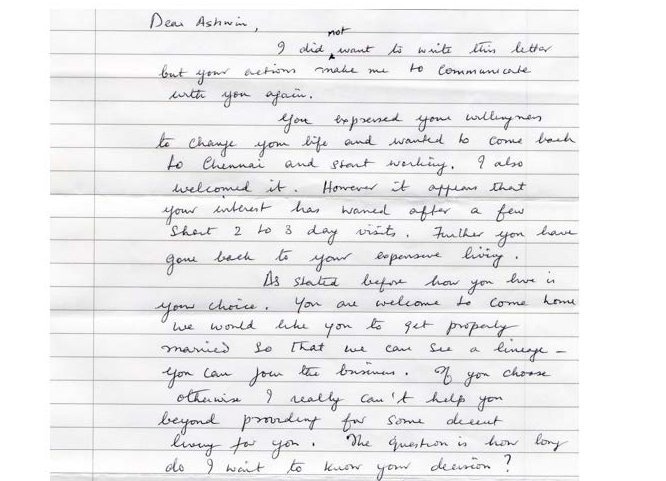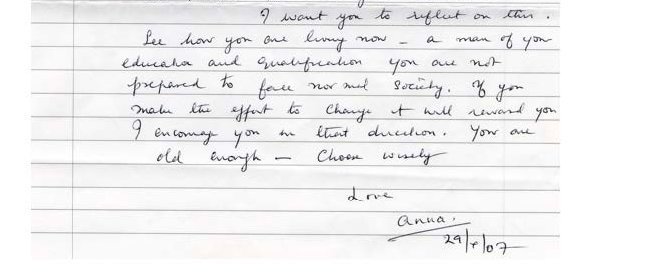 The letter continues in an angrier tone to say, "I have paid for everything since the time your present 'friend' came into your life until NOW! Life has been one long ORGY at my expense. He has systematically destroyed you – stripped you of all sense of dignity and self-respect – made [a] spectacle of you in Chennai – took you for one long orgy of drugs and debauchery in Bangkok – continued it in Mumbai – introduced other people like him and reduced you to state where you depend on him completely."
Things have not changed over the years. Ashwin insists his father is still obsessed with this, and the letters have now changed to violence and threats.
The father-son duo have in the past had a number of public brawls over similar matters. Ashwin has publicly declared that his father used his former status as an NRI to launder money, "illegally robbing the exchequer of crores", as reported on Sify .
When DNA reached out to Srinivasan, he said, "This is a personal matter between a father and son. Why should I talk to you about it? I have no comment to offer."
Anti-gay laws in India will never change, unless anti-gay sentiments in families and societies are altered.
Feature image source: DNA India