Indian foreign minister Sushma Swaraj arrived in Islamabad on Tuesday to attend a regional conference on Afghanistan. Immediately after her arrival, she said relationship between the two countries should be better and that she will hold talks with Pakistani leaders to find ways to improve bilateral ties
EAM @SushmaSwaraj arrives in Islamabad to attend the 5th Ministerial Conference on Heart of Asia Istanbul Process on Afghanistan.

— Vikas Swarup (@MEAIndia) December 8, 2015
"I have come with the message that ties between the two countries should be good and move forward," said Swaraj, who is here to lead the Indian delegation at the 'Heart of Asia' 5th Ministerial Meeting on Afghanistan tomorrow.
She refused to share what she would be discussing with Pakistani leaders, but said, "What will happen during the talks will be known after meeting."
Invited by Pakistan to attend the multilateral meet on Afghanistan, Swaraj will attend the conference tomorrow before holding talks with Aziz who said the focus would be on the resumption of composite dialogue process.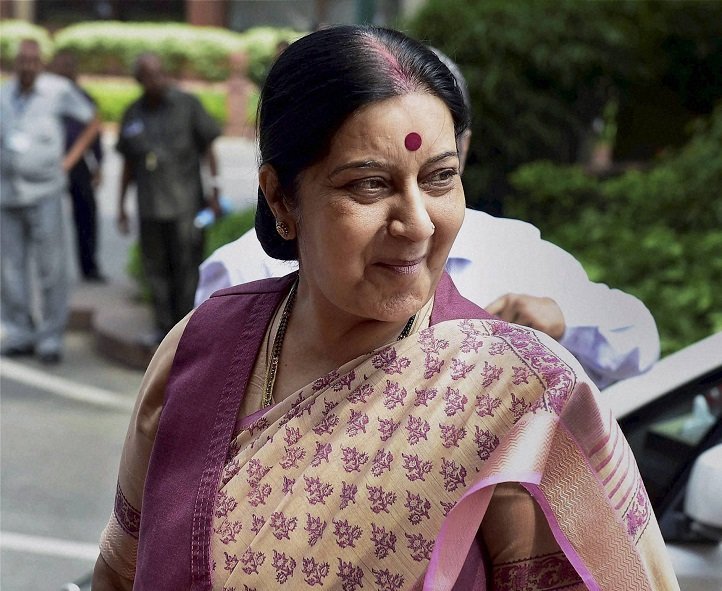 "Heart of Asia conference is very important for India because it is associated with Afghanistan. That is why I have come here to participate. Since it is happening in Pakistan it is necessary and appropriate for me to meet Prime Minister Nawaz Sharif and hold talks with my counterpart Sartaz Aziz to talk about improving the bilateral ties and take them forward," Swaraj said.
Adopting a cautious approach over the agenda of talks between Swaraj and Aziz, Indian officials said they will see how the meeting goes and if there will be any point of convergence.
Swaraj's visit comes after talks between the National Security Advisors of India and Pakistan in Bangkok on Sunday, where they discussed terrorism, Jammu and Kashmir and a range of key bilateral issues apart from agreeing to carry forward the "constructive" engagement.
Aziz had said yesterday that the deadlock in Indo-Pak ties had eased to some extent. During his talks with Swaraj, Aziz said he would discuss various matters with focus on resumption of composite dialogue process between the two countries. Swaraj's trip came three years after former external affairs minister S M Krishna's visit here in 2012 when the two sides inked a visa liberalisation pact.