Despite the Supreme Court on Wednesday rejecting a fresh plea seeking to relax the 20-feet cap on human pyramids for "dahi handi" celebrations during Janmashtami in Maharashtra, many mandals (organising groups) are openly flouting the Supreme Court ban. And they're doing it wearing t-shirts that say "I will break the law". 
One group in Thane district even put the dahi handi at a height of 49 feet in open defiance of the court order.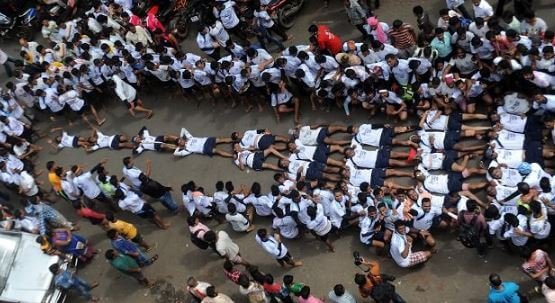 Avinash Jadhav, the main organiser of the event, is a member of Maharashtra Navnirman Sena (MNS). Jadhav said that he isn't bound by the apex court's directives as he only follows what his party chief Raj Thackeray orders. 
 "The Supreme Court cannot dictate how we celebrate our festivals. If I break the law then I am willing to go to jail for this," Jadhav told the NDTV.
MNS chief Raj Thackeray had earlier told party activists that the festival, which celebrates the birth of Lord Krishna, should be observed 'the way it's meant to be.'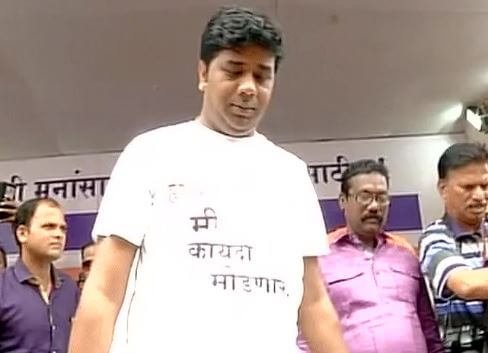 "The courts should not interfere in festivals, which have been happening for years together. The courts are taking all the decisions. If this goes on, why have the Assembly or Lok Sabha elections? Let the courts decide on everything," he had said. 
He had also added that judiciary has been harsh only on Hindu festivals as it does not take any action against children participating in 'Muharram'.
The organisers of many mandals in Mumbai and adjoining districts of Maharashtra are openly flouting Supreme Court's ban and are protesting against the height cap of 20 feet.  
 A week ago, Supreme Court had ordered that minors shouldn't participate in the Dahi Handi celebrations and had also fixed a height cap of 20 feet for the human pyramid. 
In the wake of the SC order, police authorities issued notices to 3,300 mandals in the state and decided to video-record the celebrations so as to ensure that the order isn't violated. 
(With inputs from PTI)