Shiva Thapa came down to the hotel lobby dressed casually. He is so lean that he can pass off as thin. There are no bulging muscles. Like any other 22-year-old, he freely talks about his favourite television serials (Sherlock, Breaking Bad, Narcos and more), which phone he likes, why people in the Northeast have great drinking capacity, and how he does his shopping. 
His hotel room is littered with uncleared plates, glasses with orange juice, towels, hand accessories, a laptop, a phone which kept buzzing with WhatsApp messages and unfolded clothes. He once forwarded a riddle, the answer to which was 'Old Monk'. Just like any 22-year-old.
His Facebook has selfies with his family and friends and his many trips abroad to train and box. He likes the attention. Just like any 22-year-old.
But he is not just another 22-year-old.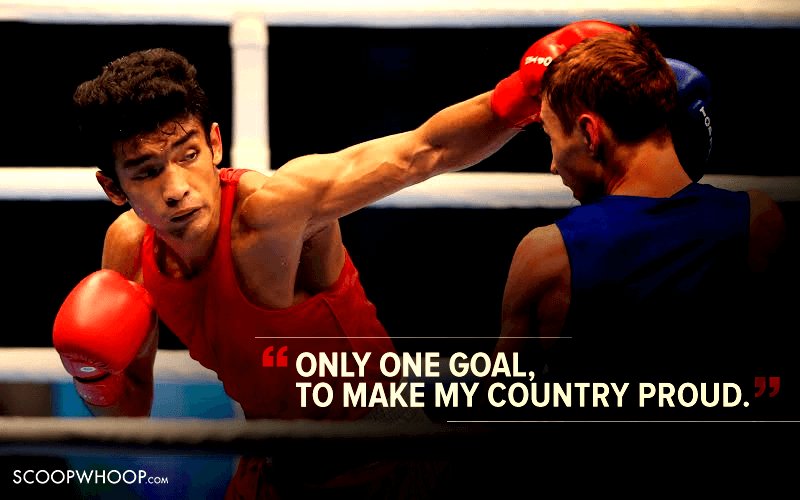 Shiva has already taken part in two World Championships, two Asian Championships, one Asian Games, one Commonwealth Games and the Olympics in 2012.
He has also won gold at the Asian C'ships in 2015, a silver medal at the Youth Olympics in 2010 and the bronze at the Worlds in 2015. He is World No 3 in the bantamweight (56kg) category.
Not long ago, he was making headlines for becoming the youngest Indian boxer to qualify for the Olympics; today he is one of the country's top medal hopes – fast, exciting and aggressive – the only visible successor to Vijender Singh's boxing stardom. 
Shiva is an orthodox boxer – but light, agile and with excellent movement. His brother and sparring partner Govind describes him as 'technical, always on the lookout to outsmart his opponent rather than knock him out'. Jabs with upper cut combinations are his favourite. However, both he and his father Padam say that Shiva's biggest strength is his focus — and this is no surprise. 
Shiva was always destined for a successful career – after all, he comes from a family of fighters, and not in the figurative way. He has four sisters – three of them were into athletics and one of them into badminton but didn't pursue sport as a career. His brother is also a professional boxer who is a national-level gold medallist and in with a big chance to break onto the India scene after spending two years at SAI camps.
But the real architects of Shiva's career are his parents. His father Padam trained children in karate and other martial arts. In fact, Padam also won a bronze medal in karate at national level.
So learning how to fight comes naturally to the Thapa family. Shiva has spoken of how he grew up in an area where gang-fights were quite common. But imagine being brought up amid conversations of different kicks and punches and how much protein one should consume to build agile muscles. This is not to say Shiva was born in an atmosphere where violence was encouraged – but used as a method of discipline and sport to eventually make a living. To make a name. To bring glory to the country.
"I've dabbled in kung-fu, karate, taekwondo and even boxing," Padam Thapa told Scoopwhoop in an interview inside a vanity van, while waiting for Shiva, who was shooting for a pre-Olympic promo. 
But his son was not into boxing from the start. Shiva doesn't bat an eyelid when asked what his alternate career would have been: "Football," he said, quite emphatically. But that passion didn't last long.
Padam, driven and dogged in his approach to make his son do something worthwhile, stepped in. "I always told him that if he wanted to win, if he wanted Olympic glory, he would need to choose an individual sport — and not football or cricket, which they liked and played as well. India is never going to win anything in football and I was already into contact sport, so boxing was an easy choice," he said.
Before moving away to SAI centres across India, Shiva lived in a pakka house which has an area to train: basic gym facilities, punching bag etc. Everything was already set for a valid future in boxing. Since the age of six, Shiva followed a regimented life – wake up at 3 am, run for 3 kms and a mixture of a hundred push-ups, sit-ups and pull-ups. Now he skips 3000 times, does 500 push-ups and 1000 crunches and runs 18 kms every day. There were no video games, not many friends. "We were mostly in the house… he's made a lot of sacrifices," Govind said.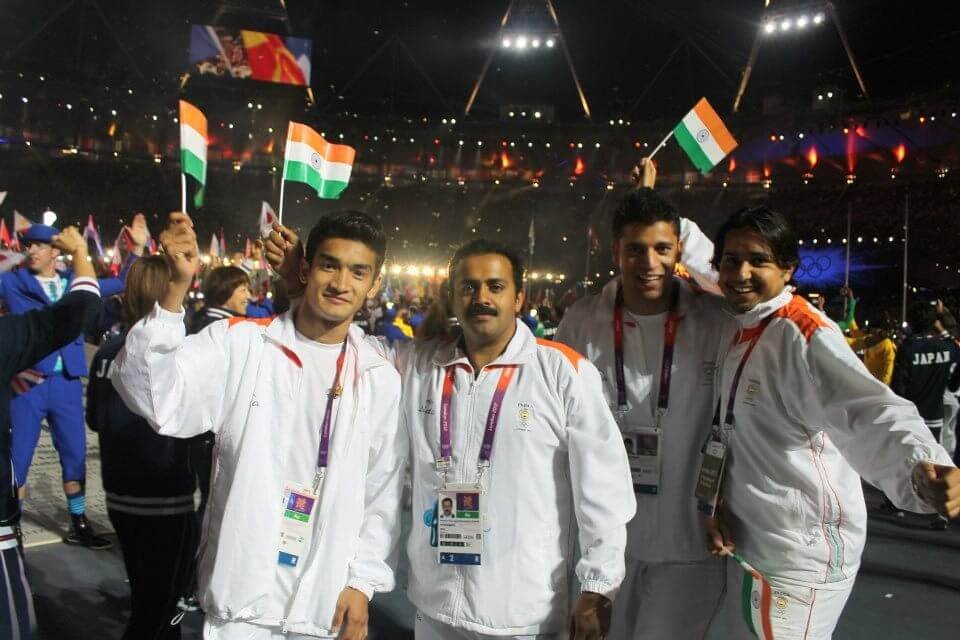 Then there is his mother Goma, who is always by Shiva's side, and why not? Her contribution (by admission) was mainly in the kitchen and went a long way into sculpting muscles in Shiva's body when he started out.
"Mera din kitchen mein teen bajey shuru hota tha (my day started in the kitchen at 3 AM)," she told Scoopwhoop. "Horlicks and milk in the morning with biscuits. Tea for the husband. Shiva would doze off at the table and we had to wake him up. His father would make a schedule for seven days at a time and there was no way it would not be followed."
Padam would then make a mixture of almonds and other dry fruits and feed it to them before training in the morning. He would pack more of these for after training. Before school, a big breakfast – six to seven eggs and handmade juice. After school, there would be lunch, incorporating dalia (wheat porridge), vegetable soup and the basic dal-rice-roti-sabzi.
"Shiva would call us from the school phone, saying he was done. That was the signal for me to ready the lunch on the table. He would come, eat, rest and head off to SAI again for training," Goma said. Did he ever cry though? "Shiva was sensitive when he was young – so there was crying if I hit him too hard or shouted at him. That would mean a complaint to mom and a beating from dad for me. But he never cried due to rigorous training," Govind said.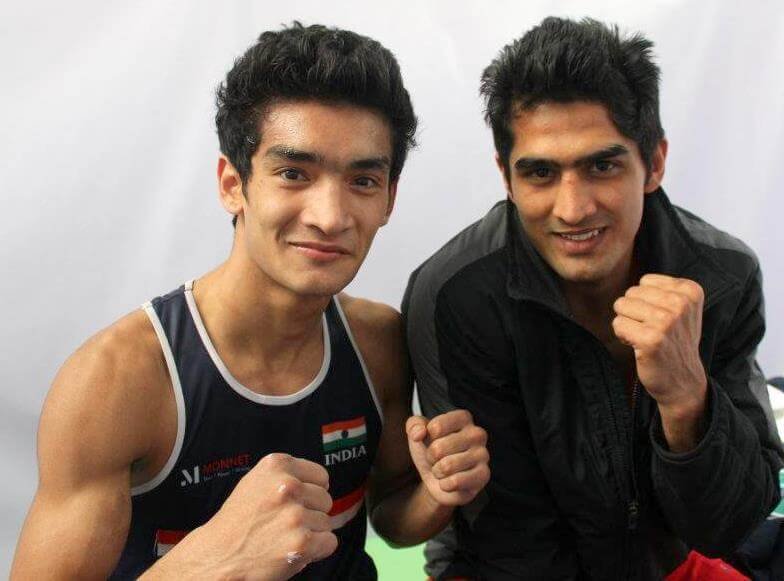 And after a day of rigorous training, the protein kicked in – chicken and kaleja (goat liver) mainly. 
"My daily expense was Rs 1000, just for Shiva and Govind's diet," Padam said – this included food supplements and energy drinks as well. 
This was a nonstop endeavour. Even weekends were tough – Padam used the words "cross country and swimming" – and while it literally wasn't that, the brothers would be taken to the outskirts and were made to run hard in the hilly areas and swim in the community pool. 
Shiva was so good among his contemporaries that legend has it he won a sit-ups test at SAI at the age of ten — none of the seniors could match him. "He did more than a thousand and it is one of the most popular SAI Guwahati stories," Govind said.
This whole regimen was created by Padam and executed to perfection for years, until SAI took over full responsibility of honing Shiva into a world-class boxer – which was after his national-level gold medal in 2005. 
To fund his initial development, Padam, who has studied only till standard 10th, sold some land and took a loan as well. His other savings went in the marriages of three daughters – the fourth one is yet to get married. But there wasn't a single day that he doubted his son's credentials.
"He was delivering medal after medal, so why would I stop believing in him?" Padam said.
Shiva himself talks about how his father never refused to support him, not even for the most pettiest demands: "He never said no… I can't remember him ever saying that he can't afford to buy me something. This included the latest phones (one which he left in an autorickshaw at the age of 14), talktime, shoes… anything," he told Scoopwhoop.
"My demand was simple – keep doing well in boxing and you will get everything," Padam said.
The deal was working both ways – Shiva's rise was meteoric and while he faced disappointment with a first-round exit from London 2012, he has changed his tact for Rio 2016. This time, it doesn't seem like it will be 'over in minutes'. In Brazil, you will see a more aggressive fighter – the 'frustration building inside' due to the administrative 'barriers' that Indian boxers face came out in a scream after he sealed his Olympic berth at the Asian Qualifying tournament in China — and will certainly well up in Brazil — hopefully in the ring, hopefully in the form of lightening punches and jabs.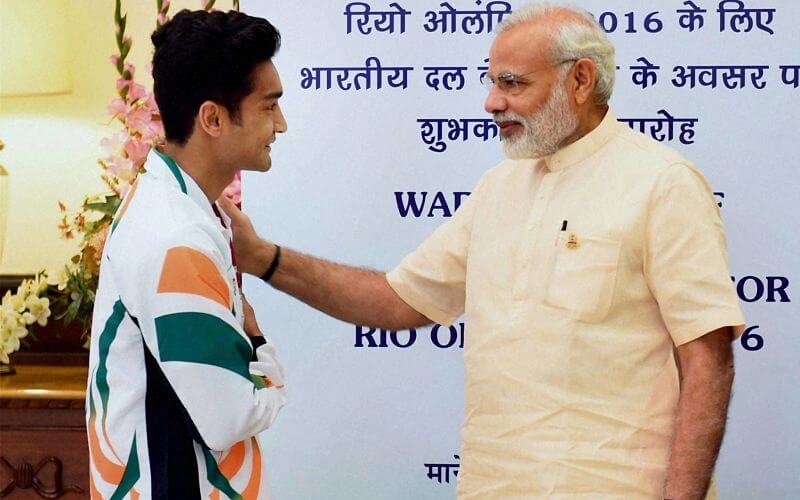 While maintaining a calm demeanour, Shiva can't really hide his aggressive side. Talk about busting an opponent's nose, and he says: "At first it was like 'what have I done'? There is slight worry, because there is respect for your opponent. But then you say to yourself, 'that felt good'."
In life though, he hates picking fights: "Mostly because I know I'll end up hurting someone if I get into a fist fight," he said.
India will want this side of Shiva to take the ring by storm in Rio. Shiva fully realises how boxing has changed – there is no place for defensive boxers according to him. He uses the word 'dormant' instead of defensive and calls aggression the key to winning and 'going for the kill' as his approach. 
He doesn't have any other option – bereft of enough tournaments and exposure trips due to the boxing federation's bans, Shiva dives into Rio 2016's round of 32 without as much competitive experience as he would like. He is one of only three Indian boxers who have qualified for the Olympics this time, compared to the eight in London four years ago.
But he is the best of the lot. He is the best the country has. And judging by the amount of sweat, blood and tears he has already spent on his career so far, expect Shiva to put his weight behind every punch. 
As he puts it, his ambition for Rio 2016 is remarkably simple: "Only one goal, to make my country proud," he says.
India expects, and Shiva Thapa only knows how to deliver. 
Feature image source: AFP