Eight telling words have made filmmaker Suman Ghosh's life a little difficult.  'Gujarat', 'Cow', 'Hindutva view of India' and 'Hindu India', these words will probably figure prominently in any socio-political discussion in the country today, but Ghosh has been asked to mute these words in his documentary on Amartya Sen, The Argumentative Indian. 
"At the Censor Board office in Kolkata I was verbally informed to mute four words 'Gujarat', 'Cow', 'Hindutva view of India' and 'Hindu India' for getting U/A certificate," Gosh told ScoopWhoop News.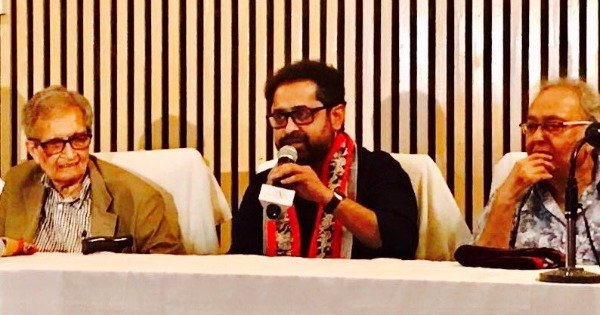 Ghosh, who has been making the film for over a span of 15 years from 2002, told them that he will not mute these words. "I was told by the officials that they are helpless. They probably are working under strict instructions," Ghosh said. 
The Argumentative Indian is structured as a conversation between Amartya Sen and his student, economist Kaushik Basu, so it's natural that it will touch topics that are related to the socio-political realities of the country. "I did know about the harrowing time makers of Lipstick Under My Burkha and Udta Punjab had with the CBFC, but I was relatively less apprehensive because my film is a documentary. Clearly, I was wrong," says Ghosh. 
Recently, the makers of the documentary film An Insignificant Man, which chronicles the rise of Delhi Chief Minister Arvind Kejriwal from a member of the India Against Corruption movement to the leader of the Aam Aadmi Party, fell prey to CBFC board's arbitrary behaviour. Censor Board chairperson Pahlaj Nihalani wanted Ranka and co-director Vinay Shukla to get No Objection Certificates from PM Modi, Arvind Kejriwal and Sheila Dikshit if they want their documentary released in India. 
Both Ranka and Shukla refused to comply. The film is still stalled. 
Feature image source: Suman Ghosh