A day after news emerged that the central government didn't give permission to telecom giant Reliance to use Prime Minister Narendra Modi's photo in its Jio advertisements, it seems Reliance might end up solving the entire matter by paying a minuscule fine of just Rs 500, a Times of India report says. 
As per the law governing the misuse of emblems and names in India, the Section 3 of the Emblems and Names (Prevention of Improper Use) Act, 1950 clearly disallows the the use of "any name or emblem specified in the Schedule" to be used for "the purpose of any trade, business, calling or profession, or in the title of any patent, or in any trade mark or design" without the permission from central government . 
The law also states that "any person who contravenes the provisions of Section 3 shall be punishable with fine, which may extend to five hundred rupees."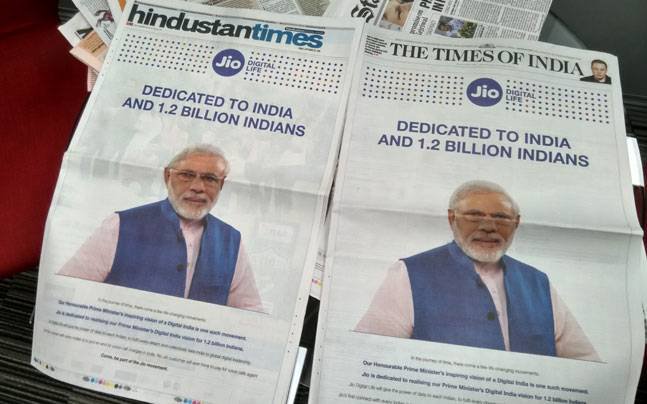 According to a written reply in Rajya Sabha, Minister of State for Information and Broadcasting Rajyavardhan Rathore on Thursday said that while the government was aware about Reliance Industries Limited's telecom venture using Prime Minister's photo, "no permission was granted for it by the PMO."
The answer came in response to a question raised by Samajwadi Party's member Neeraj Shekhar who questioned whether the government was aware that Reliance Jio used PM's photo with their ad and whether it permitted the company to do so.
He added that the Directorate of Advertising and Visual Publicity (DAVP) is "the nodal agency in Government of India for release of advertisements in policies and programmes" of the central government in the media.
DAVP is the only body that releases government advertisements and does not release ads of any private body, added Rathore.
Under the law, apart from Prime Minister, the photos of  President of India, governor of a state, Government of India or any state, Mahatma Gandhi, Indira Gandhi, Jawaharlal Nehru, United Nations Organisation, Ashok Chakra or Dharma Chakra and the name and emblem of the Rama Krishna Math and Ramakrishna Mission etc., can't be used without prior permission.