In Russia's capital city Moscow, an unknown art group has hung a banner of US president Barack Obama as part of an anti-smoking campaign.
Translated from Russian, the text on the poster reads: "Smoking kills more people than Obama, although Obama kills a lot of people."
Don't smoke, don't be like Obama," it further says.
The poster has used an altered image of Obama with a cigarette in his mouth. It has gone viral on social media.
The advertisement was criticised by Dmitry Gudkov, the only liberal opposition MP in Russia's parliament, on Tuesday. On his Facebook wall, Gudkov posted a photograph of the poster, which is encased in a metal-and-glass frame, at a bus shelter in the city.
Translated in English, it said "disgusting and embarrassing that this is appearing on the streets of the Russian capital."
Barack Obama, quite famously, gave up smoking in 2010, but admitted to "falling off the wagon" many times since he was elected US president. Later, his wife Michelle said he had given up the habit for his daughters' sake.
Not the first time
Over the last years, relations between the US and Russia have deteriorated. This is over Kremlin (where Russia's government's is based)'s support for Syrian President Bashar al-Assad and its role in neighbouring Ukraine, which culminated with the annexation of the Crimean Peninsula in 2014, BBC said.
Just two months ago, a major Russian supermarket chain sold a chopping board with Obama pictured as a chimpanzee. The chain later apologised.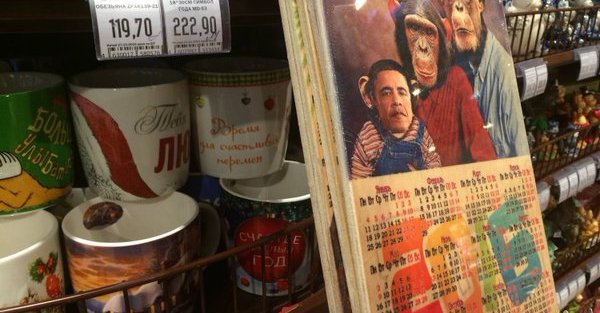 In January, a banner was hung from a residential building across from the US embassy in Moscow. It replaced the word "hope" in Barack Obama's iconic 2008 election poster with the word "killer", the Guardian said.