This week saw the first green corridor being created in Delhi to facilitate the smooth transportation of a liver retrieved by doctors at King George's Medical University, reported Times of India. The corridor was made for a patient in New Delhi's Institute of Liver and Biliary Sciences and the entire operation was coordinated by Chowk circle officer Sarvesh Mishra on KGMU's request.
"A green corridor refers to a non-stop thoroughfare for vehicles transporting vital organs from one medical center to other," said Prof Ravi Kant, vice chancellor KGMU.
In the past, green corridors have been created in different cities like Delhi, Chennai, Bengaluru, Navi Mumbai and Kochi to transport organs for transplant.
The cornea, kidneys and liver of a brain-dead patient Pramod Sahni were retrieved on Tuesday evening after his family gave a written consent. The procedure for transportation started from the KGMU to Amausi airport.
Covering a distance of more than 18 km all in a record time of 22 minutes, the ambulance carrying the retrieved organ made it's way to it's destination, with the help of 50 cops.
After the organ reached Amausi, a team from ILBS got it airlifted. A green corridor was created in New Delhi as well to transport the organ from airport to the hospital.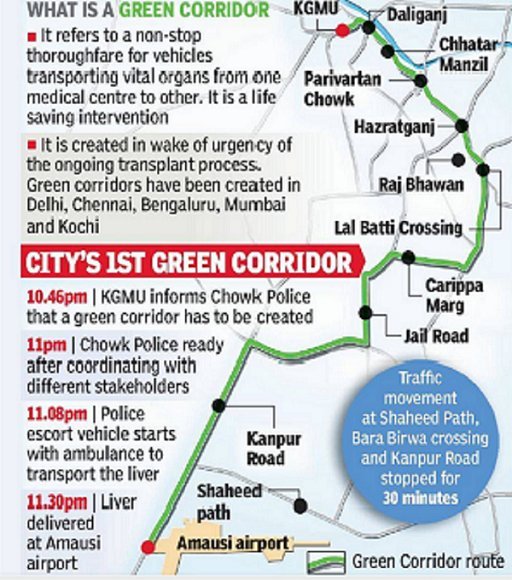 Hats off to the very responsible cops for their efficiency!