New Delhi: Hundreds of students and teachers marching in DU's North Campus on Tuesday said the last week's violence on students and teachers at Delhi University's Ramjas College was an "assault" by RSS's student wing ABVP on common students and not a "clash between ABVP and AISA members," as portrayed by certain sections of the media. 
Even as the ABVP on Tuesday claimed that the violence at Ramjas College last week was provoked by "outsiders", the protesters called the recent violence at the varsity "right-wing's assault on common man" and not the "fight between Right and Left." 
On Tuesday afternoon, students and teachers of Delhi University, JNU and Jamia marched against the recent violence over a seminar at DU's Ramjas College.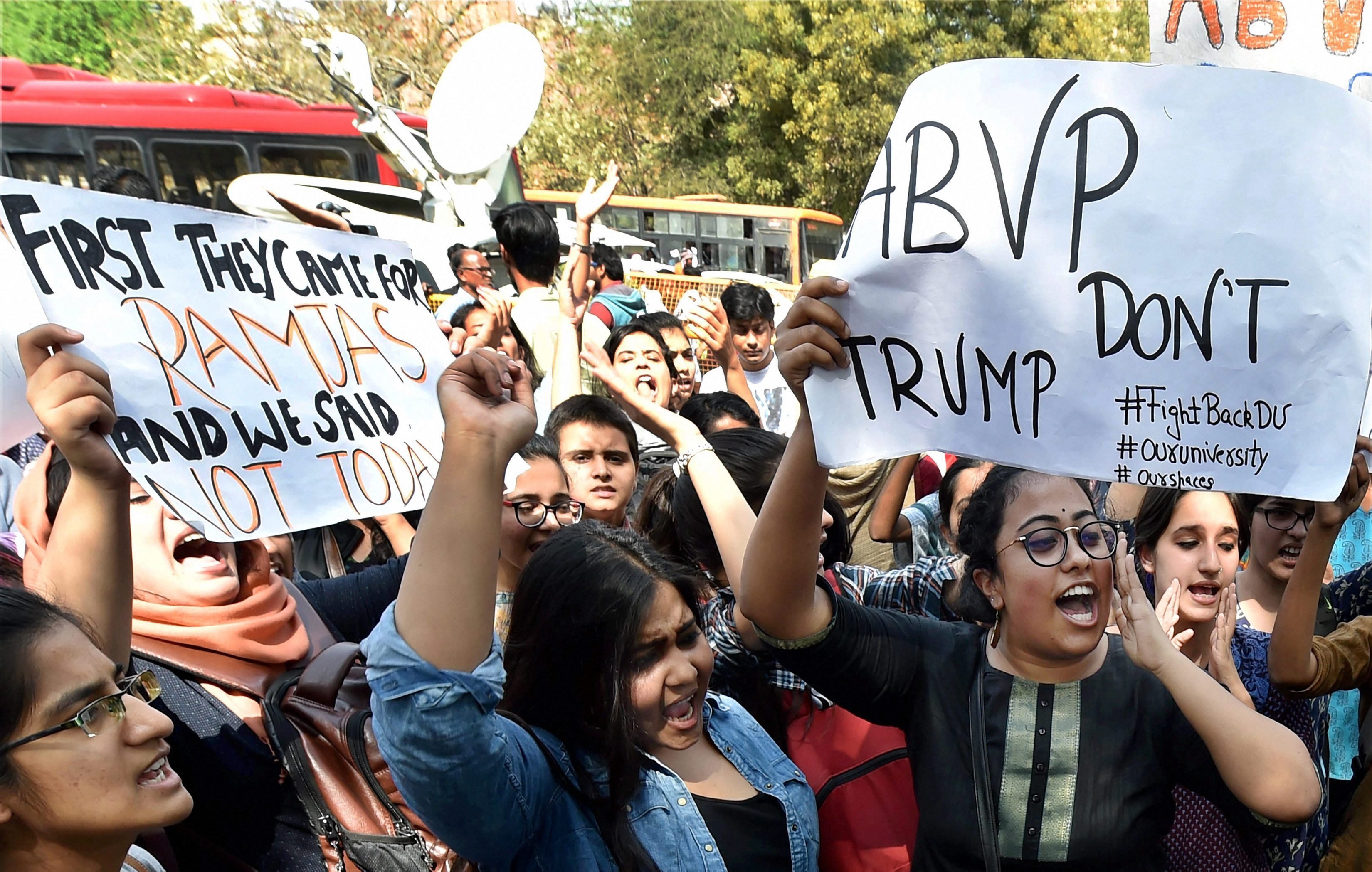 The march started from Delhi University's Khalsa College and snaked through various colleges affiliated to DU before culminating in the university's faculty of arts compound. The campus resounded with slogans of 'Aazadi' and 'ABVP murdabaad' as the number of politicians, activists and teachers addressed students. Missing JNU student Najeeb Ahmad's sister also joined the protesters. 
Addressing the gathering, activist and Swaraj Abhiyan leader Yogendra Yadav said the ABVP and RSS has no right to dictate who's national and anti-national.
"These people have no contribution in the freedom struggle of India. RSS has never hoisted Indian flag on its Nagpur headquarters and these people are now lecturing others on nationalism. DU students should be happy that they made ABVP to take a flag march," Yadav said.
Earlier in the morning, Delhi Police had sealed the entry points to several roads in the North Campus and deployed hundreds of policemen to provide any kind of untoward incident. 
Calling it a "historic movement" in the history of DU, DU's AISA President Kanwalpreet Kaur said "the participation of the huge number of students in the march is an answer to ABVP's hooliganism." 
Senior Communist leaders D Raja and Sitaram Yechury also addressed the students and expressed their support to the students. 
"This is the making of Fascism in India and we have to resist this challenge together. We have to rise against this divisive, communal, violent and sectarian politics," Parliament member D Raja said.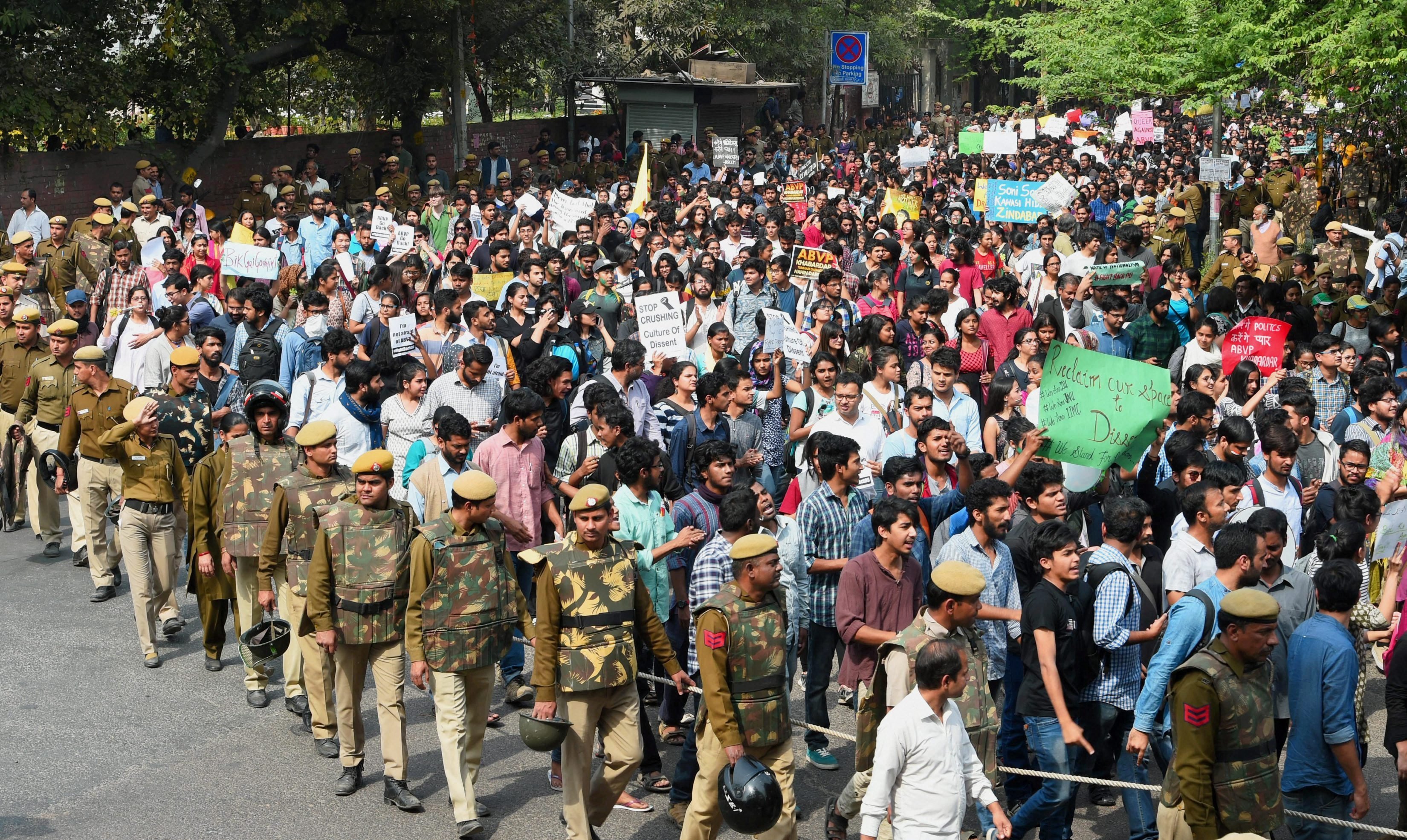 The Left leaders also assured students that they they'll raise the issue of Ramjas College violence in the coming session of parliament next month. 
Hitting out at the media, former Jawaharlal Nehru University Union President (JNUSU) president and one of the faces of JNU movement last year, Kanhaiya Kumar said media is not objectively reporting the violence in which ABVP is involved. 
"This is not a fight between Right and Left. It's a fight between right and wrong. Why is nobody asking ABVP about Najeeb? Isn't ABVP involved in the suicide of Rohith Vemula? This is not an isolated event but part of a larger pattern we saw in HCU, IIT Madras, FTII and JNU last year," Kumar said.  
Meanwhile, several students belonging to Congress's student wing National Students Union Of India (NSUI) took part in the hunger strike against the ABVP on Tuesday. They also took out a mashal procession march in the evening. 
On the other hand, ABVP has called for a protest on March 2 against the entry of outsiders on campus and their alleged attempts to "pollute" the atmosphere. 
"There is lot of hue and cry about ABVP's involvement in the violence. We would like to put on record that the violence was provoked by outsiders and the 'anti-nationals' have put the blame on us,"  Saket Bahuguna, ABVP's National Media Convener said during a press conference.
Feature image source: PTI