The attack on "inclusive nationalism" historically adopted by India may lead to "social disintegration" of the country, warned noted academician and Professor Emeritus of JNU Prabhat Patnaik. 
"I believe this, that if the sweep of the nationalism agenda of these Hindutva forces continues, this kind of destruction of inclusive nationalism will lead to social disintegration of India," Patnaik said while addressing students at JNU.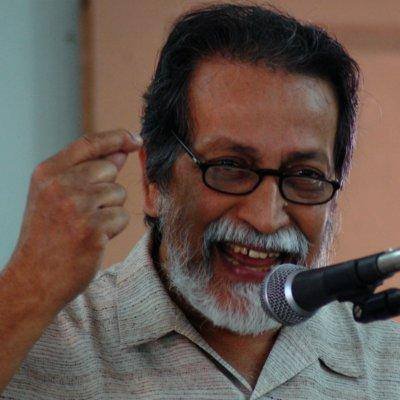 "It is not just bad morally, then India will join the ranks of the 'failed states'," Patnaik said slamming the "Hindutva forces" who he said were trying to substitute "democratic egalitarian system" with "modern capital oligarchy".
Patnaik was speaking at the administrative block of JNU on "What it means to be 'national'" during a continuation of nearly a month-old speak-in series on 'nationalism' by JNU professors and eminent personalities in the backdrop of arrest of three JNU students in a sedition case over an event against hanging of Afzal Guru during which anti-national slogans were allegedly raised.
 He alleged that the capitalist forces and "aggrandising nationalism" practised by "Hindutva forces" are together trying to form and practice a new type of Nationalism that was never the part of Indian history, neither during its Freedom movement and nor after it. 
Here's the video:
During his lecture, Patnaik also defended the 'pro-azaadi' sloganeering for Kashmir saying that "violation of social contract (the constitution) should be discussed upon which modern India is based" and that dissent should not be squashed.
"In India, the right to secede was never the part of constitution, it was never written in the constitution and precisely because it is not written in the constitution that it is very important that violations of the social contract and voices raised about such violations must be discussed," he said.