Indian archer Deepika Kumari equalled the world record in women's recurve event before helping the country to the mixed pair bronze play-off in the first stage of the Archery World Cup in Shanghai today.
The former world No.1 and winner of two Commonwealth Games gold medals shot 686 in the 72-arrow ranking round to equal the feat of London Olympics gold-medallist Ki Bo Bae of Korea.
Ki Bo Bae, who had won two gold medals at the London 2012 Olympics in the individual and team competition, had erased an 11-year-old world record when she got past fellow Korean Park Sung-Hyun's 682 at qualification of the Universiade in Gwangju in 2015.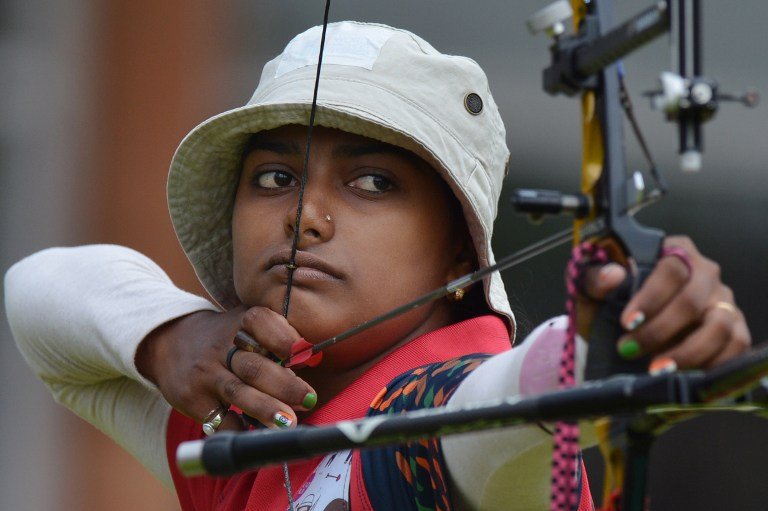 Deepika set the range ablaze shooting 346 in the first half and needed just 341 to get past the Korean but two 9s in the last end meant the 2015 record remained intact.
The top seed Deepika will now play round three of last 32 directly, while her teammate Laxmirani Majhi who ranked a poor 45 and Rimil Buriuly (75) will start from round one. The women's team is ranked fourth.
Deepika's effort also enabled India to get a top ranking in mixed pair as she partnered 12th ranked Atanu Das (671 points) to defeat Turkey 5-3 in the first round of eight.
In the semifinals, the pair lost to fourth ranked Chinese Taipei 3-5 and will face third-seeded Koreans in the bronze medal playoff.
Korea were blanked 0-6 by second-ranked USA in the other semifinal.
In the men's recurve qualification, Atanu Das, Jayanta Talukdar and Mangal Singh Champia finished among top-20 to hand the team a third place.
Feature image source: AFP