Amidst the tragedy that unfolded in Paris, questions were raised against the Social media giant Facebook over the safety feature which was activated on November 14.
The safety feature on Facebook allowed people to mark themselves safe during natural disasters so that their friends and relatives knew. But it drew flak when the safety feature was activated on the day of Paris attack and not during the Beirut attack which took place just a day before.
At least 43 people were killed in Beirut in a suicide bomb blast executed by ISIS. But it was just a matter of hours which completely overshadowed the incident after six spots in the French capital were attacked killing 129 people.
This is how people reacted to the absence of the safety feature during the Beirut attack:


But responding to that question, Facebook CEO and founder, Mark Zuckerberg replied saying that they had to change the policy immediately after the incident.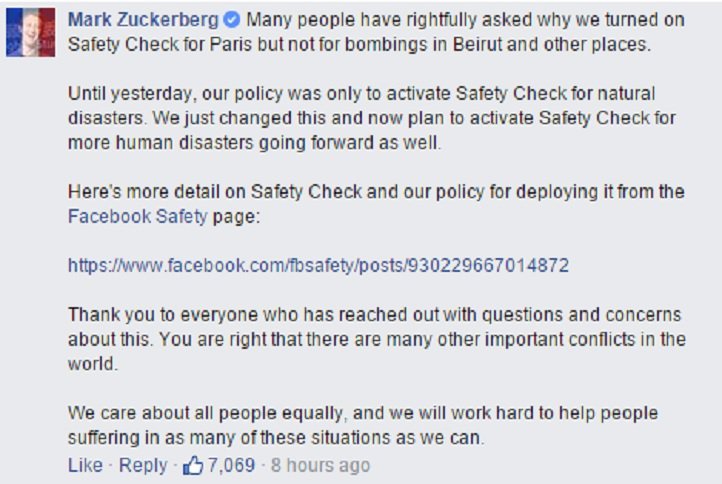 Zuckerberg clearly stated that the policy was changed on the day of Paris attacks which was only confined to natural disasters but not for terror attacks before that.
It might have taken a day to change the policy but as the saying goes; it's always better late than never. This change apparently indicates that the Social media platform truly aims at helping people without any bias when they need it the most.